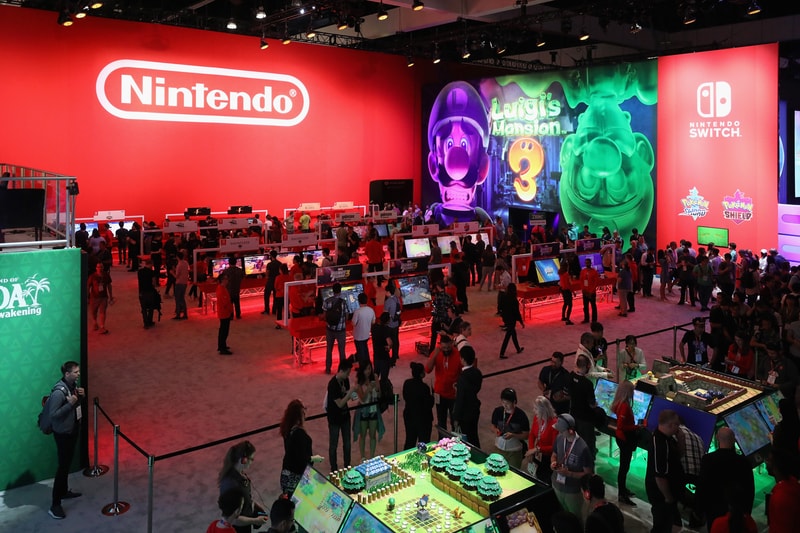 Closing out E3 2019 was none other than the Nintendo Direct presentation. The family-friendly video game company revealed upcoming Switch titles for The Legend of Zelda and Contra, along with an update on the well-awaited Animal Crossing and two new DLC characters for Super Smash Bros. Ultimate. Nintendo ultimately followed their word from April regarding a possible new Switch, leaving out any hardware-related news.
Take a look at Nintendo's full slate below.
In case you missed it, Square Enix unveiled combat footage for the upcoming Final Fantasy VII remake during their panel.
Games
The Witcher 3: Wild Hunt — Complete Edition
CD Projekt's 2015 Game of the Year awardee is coming to the Nintendo Switch for the first time. In addition to the main game, all 16 free DLCs and both story expansions, Hearts of Stone & Blood and Wine, will be included. The Witcher 3: Wild Hunt — Complete Edition is scheduled for a 2019 release.
Resident Evil 5 and Resident Evil 6
The seventh and eight major installments in Capcom's Resident Evil franchise will soon be playable on the Nintendo Switch. The 2009 and 2012 editions join Resident Evil, Resident Evil 0, Resident Evil 4, Resident Evil Revelations and Resident Evil Revelations 2 on the platform. Resident Evil 5 and Resident Evil 6 will be available this Fall 2019.
Daemon X Machina
Set in an apocalyptic world, Daemon x Machina follows a mercenary on its journey to defend the planet against corrupted robots. The customizable character, along with a group of pilots called The Outers, all command an Arsenal mech to engage in battle. A four-player co-op mode will also be available on top of the story. Daemon X Machina will release September 13, 2019 for the Nintendo Switch.
Contra: Rogue Corps
Konami's latest entry in the classic run-and-gun franchise arrives in the form of Contra: Rogue Corps. Switching the traditional side-scrolling perspective for a top-down view, players will be able to wreak havoc in Damned City as both beloved and new characters. Single-player and multiplayer game modes will be available. Contra: Rogue Corps releases September 24 for the Nintendo Switch.
Empire of Sin
Set in the criminal underworld of 1920s Prohibition-era Chicago, Empire of Sin is a turn-based, combat-strategy game from the minds of Romero Games and Paradox Interactive. Acting as one of 14 crime bosses (composed of both real life personalities like Al Capone and Stephanie St. Clair along with fictional embodiments), players will need to "hustle, charm and intimidate your way to the top of the pile" and find a way to stay there. Empire of Sin is slated for a Spring 2020 release date and will be playable on PS4, Xbox One, Nintendo Switch, Mac and PC.
Luigi's Mansion 3
In anticipation of the upcoming Luigi's Mansion installment, Nintendo revealed a couch co-op and online mode for the title. In co-op, a second player will take on the role of Gooigi, a "Luigi made of goo" who can walk through spikes and obstacles but will melt in water. The online co-op mode, on the other hand, will allow a game of up to eight players to find Toads and destroy ghosts. Luigi's Mansion 3 is slated for a 2019 release.
Pokémon Sword and Pokémon Shield
Nintendo gave fans a first look at the gameplay of the highly-anticipated Pokémon Sword and Pokémon Shield, revealing that Wild Areas where players can catch, battle and traverse are more exploratory. Random encounters will still be a thing when walking through tall grass, but players will be able to attract nearby Pokémon by whistling — the outcome depends on how the Pokémon reacts to whistle, however. Pokémon Sword and Pokémon Shield release simultaneously November 15, 2019 for the Nintendo Switch.
Banjo-Kazooie and Dragon Quest's Hero as Super Smash Bros. Ultimate DLCs
Both Banjo the bear and Kazooie the breegull along with the Hero of Dragon Quest have been revealed as the next Super Smash Bros. Ultimate DLCs. Banjo will be able to throw punches while Kazooie will use fire eggs and her wings to assist the bear in floating, sprinting and charging. Meanwhile, the Hero will be utilizing a sword, shield and a number of magical spells, and can take the form of the protagonists from Dragon Quest 3, 4, 8 and 11. Banjo, Kazooie and the Hero join Super Mario Bros.' Piranah Plant and Persona 5's Joker as Smash Ultimate DLCs.
The Legend of Zelda: Breath of the Wild Sequel
Nintendo didn't reveal much for the upcoming Zelda sequel, just a quick teaser trailer and the confirmation that the game is currently in development. Stay tuned for the official title and a release date.
Animal Crossing: New Horizons
Others
The forthcoming Animal Crossing entry was initially announced for a 2019 release, but Nintendo has pushed it back to 2020. Developers announced that the title will feature co-op and online multiplayer of up to eight people. Additionally, the company confirmed that Isabelle will be appearing in the game, but her appearance will depend on the player's progress. Animal Crossing: New Horizons will release March 20, 2020 for the Nintendo Switch.
Others
Link's Awakening for the Switch will feature a semi-customizable dungeon, releasing September 20. Cadence of Hyrule, the Crypt of the NecroDancer and Legend of Zleda crossover, will be out June 13. The third installment of No More Heroes is currently in development and will release in 2020, while Dragon Quest XI S: Definitive Edition will be available for the Switch this September 27. Seiken Denetsu 3, a 1995 game that has never been released out of Japan, will finally be available in America as part of a retro Switch collection entitled Collection of Mana. A remake of Panzer Dragoon will be arriving on the Switch this Winter 2019, along with a tactics RPG title for Netflix's Dark Crystal called The Dark Crystal: Age of Resistance Tactics. Games such as the Sypro the Dragon trilogy, Ni no Kuni, Minecraft Dungeons, The Sinking City, Alien: Isolation and New Super Lucky's Take will be ported to Switch between September 2019 to Spring 2020. Finally, Mario & Sonic at the Tokyo Olympics, Dead By Daylight and Dauntless have all received release dates of November 2019, September 24, 2019 and late 2019 respectively.
Click here to view full gallery at HYPEBEAST