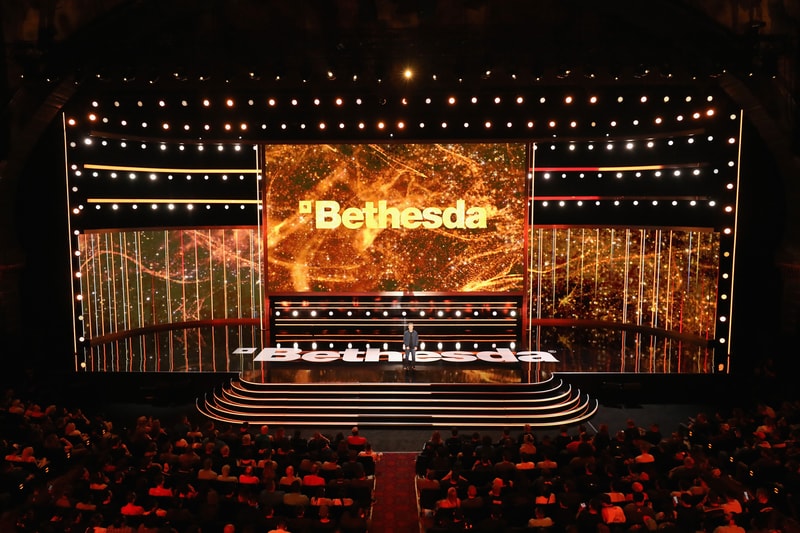 Helping kick off  E3 2019, Bethesda came through with an array for its key franchises like Doom, Fallout, Elder Scrolls, Wolfenstein and more. But proving its got so much more in store for gamers this year, the Maryland-based video game publisher also noted some new titles coming from the studios behind The Evil Within and Dishonored. Bethesda is also planning to bring back Commander Keen as a free-to-play mobile 2D side-scroller.
Take a look at the complete Bethesda slate below.
In case you missed it, check out everything Square Enix announced at E3 2019.
Games
Doom Eternal
Set to launch November 22, the latest addition to the Doom will be centered around both Heaven and Hell. A unique multiplayer experience will also serve as a big part of the game. "Battlemode" will pit two player-controlled demons against one player-controlled Doomguy.
Fallout 76
To make up for its less than stellar launch, Fallout 76 will be receiving a free update. Dubbed "Wastelanders," the new DLC will add computer-controlled human NPC characters which will feature full dialogue trees with new quests. An upcoming 52-player "Nuclear Winter" battle royal mode will also be previewed during a June 10–17 free-to-play period.
Elder Scrolls: Blades
The mobile game will be making its way to Nintendo's console sometime this Fall. Set to be free-to-play and feature both cross-play and cross-progression with the mobile version, the port will take full advantage of the Joy-Con motion controls. Additionally, Bethesda delivered a new dragon questline update to the mobile version following the panel.
Elder Scrolls Online
The upcoming "Scalebreaker" dungeon DLC adventure will be based around the dragons that have emerged from the Halls of Colossus and threaten Tamriel. Allies will have to come together wielding powerful new weapons and abilities to defeat the amazing beasts.
Elder Scrolls Legends
The upcoming Elder Scrolls Legends expansion dubbed "Moons of Elsweyr will be arriving June 27.
Elder Scrolls VI
Finally, although Bethesda didn't offer any real news it gave those in the audience and those tuning in an update that it is hard at work on the new RPG announced last year at E3.
Wolfenstein: Cyberpilot & Wolfenstein: Youngblood
Building on the universe of Wolfenstein, Bethesda will be introducing two new additions to the series in July. Wolfenstein: Cyberpilot is a VR game that transports players into the role of a hacker in the French Resistance forces. While Wolfenstein: Youngblood coming July 26 is a co-op shooter which stars B.J. Blazkowicz's twin daughters.
Rage 2
Opting for the playful approach, RAGE 2 received a sitcom-themed trailer for its upcoming "Rise of the Ghosts" expansion. The action-packed preview reveals the DLC will feature everything from a new pilotable mech, vehicles, sandworm, cheats, game modes and even a new faction.
Ghostwire: Tokyo
Developed by The Evil Within creators Tango Gameworks, Ghostwire: Tokyo is based around strange disappearances in Tokyo. Playing as the main character, you must uncover what is going on. Facing up with the occult, your mysterious spectral abilities will take you on an adventure filled with a mix of conspiracy theories and urban legends.
Deathloop
The Dishonored creators have put together a new mind-bending story chronicling the eternal struggle between two assassins on the lawless island of Blackreef. Accented by detail-rich environments and immersive gameplay, the game features a unique death cycle concept that is central to the story.
Commander Keen
Looking to reimagine id Software's iconic Commander Keen, Bethesda is putting together a free-to-play mobile game that serves as a modern take on the side-scroller. Bringing back Billy and Billie, the game will function more like an item-based action puzzle game meets 2D side-scroller. A soft launch of the game on iOS and Android is expected this Summer.
Others
Bethesda also announced plans to introduce its bid for game streaming. Currently dubbed "Orion," the software technology is being developed by id Software and is set to be a game engine level streaming service that focuses on lower latency. A big part of Orion is the ability to stream at the highest settings in sub-optimal bandwidth situations. Users can test the service when they join the Doom Slayer's Club.
Click here to view full gallery at HYPEBEAST