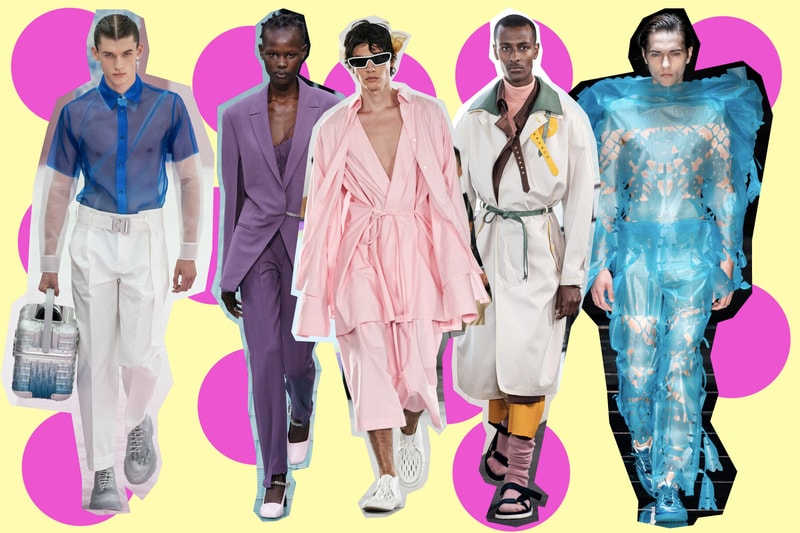 Men's Fashion Week has just wrapped up, spanning across New York, London, Pitti Uomo and Paris. The Spring/Summer 2020 seasons saw collections from some of the biggest labels out there, as well as emerging designers from all regions, and tackled everything from politics to innovation through its collections.
As the month has now come to an end, we've put together some of the most stand-out shows from the SS20 season, including collections from Dior, Dries Van Noten, Craig Green, sacai and more. For all the shows you need to see from fashion month, take a look at our top picks below.

Matthew Williams put his focus on tailoring in his SS20 range for streetwear label ALYX, where suits and two-piece sets reigned supreme. His usual tactical and technical designs saw influences throughout, such as the signature rollercoaster buckle. "Some of the construction we're attempting to do is trying to find our own language. I think it's a nice challenge to define what that is for us," Williams told Vogue, adding that it is hard to do tailoring as a young brand. Williams also chose models and friends to showcase the shows, saying that "Our casting is a real mixture of models and friends and family—those people's energy really brings out the clothes."

It's no surprise that Hedi Slimane showcased a collection filled with fitted suits, leather jackets and rock n' roll references for SS20. Known for his signature aesthetic, Slimane proved that his 70s-inspired influences are just right for the current trends, playing with fitted silhouettes and retro tailoring. Models also sported over-sized aviator sunglasses, skinny ties and suede Chelsea boots, adding to Slimane's vision. Although the collection received praise for its eye-catching garments, it also faced criticism for its casting, where only three black models appeared in an otherwise caucasian lineup.

Sies Marjan designer Sander Lak showcased his first-ever menswear collection for SS20, which also marked his first show outside New York City. Lak focused on the human body, debuting sheer and intricate garments giving a "naked" illusion crafted from organza, silk and other delicate textiles. "What can you show of the male body that isn't necessarily porn or sex or gay or straight?" the designer said, "It's this idea of nudity while fully dressed." Sander's collection saw a heavy focus on layering, playing with nude tones and silhouettes to create a cohesive collection that set the tone for the designer's future in menswear.

Jonathan Anderson applied romanticism to his SS20 collection for Loewe. "We have to be aware of what's going on in the world, but sometimes it's good to dream. Why should people not be in a fantasy state? Maybe they'll find something," the designer told Vogue, emphasizing his child-like designs and inspirations for the collection. Dungarees, pyjama-like sets and layered silhouettes were in the forefront, as well as bright colors like pink, yellow, red and more. The range was a more playful take on Loewe's signature luxury aesthetic, and showed Anderson's wide range of skill as a designer.

Chitose Abe is known for her deconstructed aesthetic, which often involves pairing two clashing pieces and showcasing them together. This season, the Japanese designer experimented with a new approach paring two similar items together to create a cohesion. Putting forward a more elegant and dressed up feel, the collection saw monochrome looks that included accessories and shoes, following a simple earth-toned palette. Of course, Abe's signature deconstructed tailoring still shone through in pieces like flannel shirts, jackets and layered trousers, bringing the collection together with sacai's unique DNA.

Kim Jones' SS20 range for Dior is perhaps one of the most talked about shows, where the designer not only worked with Yoon Ahn and Matthew Williams again, but also tapped luxury suitcase label RIMOWA as well as Daniel Arsham for a collection of accessories.
Jones showcased a collection filled with summer-ready hues ranging from pastel pink to crisp white, once again focusing on relaxed tailoring that works for both day and night. Bridging the gap between casual and business attire, Jones managed to create pieces that are both timeless yet trendy. The collection also experimented with materials, showcasing various see-through shirts in sheer organza as well as silk, contrasting against the sharp tailoring of some of the suits in the range.

No one does prints like Dries Van Noten, and SS20 was no exception. The Belgian designer said goodbye to masculine clichés and focused on patterns like florals, leopard and checkered designs, layering them together to prove that the saying "less is more" is beyond done. In addition to the graphics, Van Noten also included a range of materials including glossy trousers and crochet net tops, adding eye-catching contrasts to an already bold collection.

When it comes to Versace, prints are always in focus. For SS20, Donatella Versace debuted a vast array of patterns, colors and materials – all defining the luxury fashion house's unique aesthetic. The collection also saw rock-inspired pieces like fringed leather jackets and trousers, as well as power suits and dresses worn by models like Gigi Hadid. The collection was partially a tribute to Prodigy, who's front-man Keith Flint passed away in March. "I dedicate this collection to my old friend. He was disruption… and he performed right here the last time he was in Milan."

Clare Waight Keller put on her first full-blown menswear show for Givenchy, and she put forward a whole new aesthetic for the house. Speaking about her inspirations, Keller cited "Particularly young men in Seoul, who are meticulous about fashion, sort of tribal, sort of cultish, and highly accessorized. They have a real passion for a look. Seeing them there reminded me of how we wanted to be in the '80s and '90s, of wanting to belong, to have the best of a look." Experimenting with textures and materials, Givenchy's silhouettes explored layering through shirts, blazers and long coats. The range saw a new edgy aesthetic that is incredibly on-trend, and might bring Givenchy back to being one of the most sought-after brands in both luxury and streetwear.

Craig Green has been one of the most-watched designer at London Fashion Week, constantly debuting new visions and unique approaches through his collections. "People scrutinize themselves in mirrors, showing us another possibility of being. I wanted to show that things didn't have to be from one place—not negative or positive, but celebratory," the designer explained, alluding to his mirrored floor which the collection was shown on. As always, Green experimented with colors, debuting monochrome looks focusing on texture and silhouettes. In addition, he also debuted paper cut-out like creations, proving that he's in the forefront of innovation in fashion.
For SS20, Martine Rose put together a show featuring political commentary at a roof garden at the top of a corporate building in the City of London. "They are clowns, politicians. And I chose to come here to this venue as a comment on business leaving Britain. And that's why you'll see cuts here that are inside out and back to front. It's all confused, like what's going on right here and internationally, too. Playful, but sinister, I'd say," she described the collection, which featured odd takes on tailoring and design, while still encompassing Rose's unique streetwear-like aesthetic. Patterns, prints and materials were once again in focus, purposely mismatched to go with the "weird" and "odd" influences in the collection.
Click here to view full gallery at HYPEBAE