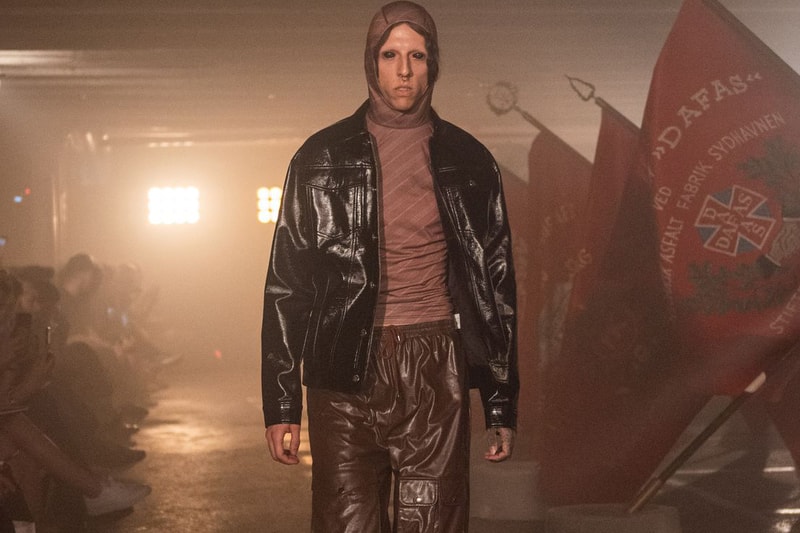 Back in March, Han Kjøbenhavn unveiled its Spring/Summer 2019 campaign, which used fashionable outfits as vehicles to explore the "contrast" and connections between our natural and digital worlds; taking inspiration from the "time when computer technology entered our daily lives" and that initial "change from being kids playing outside in the fields to 'indoor kids' spellbound by the electronics," designer Jannik Wikkelso Davidsen and company aimed to represent those shifts by creating a line that blended "natural, traditional fabrics and floral artworks with modern, technical fabrics and artworks inspired by electronics and classic video games." Now, Davidsen and his brand are taking over the latest Paris Fashion Week's runways to the official debut of Han Kjøbenhavn's Spring/Summer 2020 range.
This time around, Han Kjøbenhavn pieces' take their primary influences from old-school Danish "working class" fashion, resulting in items that wouldn't look out of a place in the closet of a European union-worker from a past era. For the presentation of these wares, Davidsen took the type of clothes that would fill up "mom's wardrobe, dad's wardrobe, the teenager's wardrobe" and mixed them together in attention-grabbing, unique and forward-thinking way.
"Let's just say avant-garde streetwear," Davidseen recently told Office magazine when asked for a description of his label's "aesthetic." "But I think we're a little bit more abstract than streetwear—we drag stuff out so it moves away from the classical perception of what you'd expect from it … I just think we're selling stuff to people who are interested in the layers of a brand, into people who are more than what meets the eye. That's why we also have such a close relationship with our customers, and the people who appreciate us—because there are so many layers to what we do. So, people have that opportunity to connect to a brand on another level. I mean, it almost sounds disgusting to say, 'I do it differently,' and that's not what I'm saying. I'm just trying to create stories with layers that people can dig into."
You can take a look at official imagery from the runway show for Han Kjøbenhavn's Spring/Summer 2020 debut above, and expect an in-house editorial to surface as the line's release nears.
Previously, Han Kjøbenhavn teamed up with PUMA for a Spring/Summer 2019 collaboration that celebrated "vintage sportswear."
Click here to view full gallery at HYPEBEAST