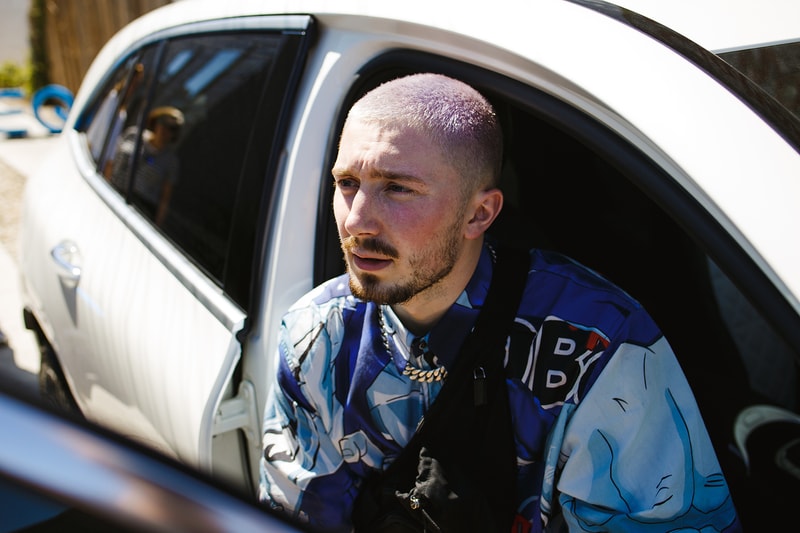 London-born digital artist and creative hacker, Thomas Webb was one of the main attractions at the Mercedes-Benz EQ Home, where he explored cutting edge ideas around the potential of human-focussed technology. Offering creative technologists, futurists, artists and inventors a space to relax and exchange ideas amidst the bustle of this year's SXSW festival, the future-facing car brand transformed a gallery space in Austin, Texas into a hub to celebrate next-generation technology and the individuals driving it. Guests were able to get a close up look at the brand's forward-thinking, all-electric EQC, as well as the sci-fi-esque, all-electric Mercedes-Benz Formula E showcar.
Thomas Webb gravitated towards creativity within computer programming from a young age, with a love for not just video games, but the mechanics and programming behind them. Speaking at the Mercedes-Benz EQ Home, Webb took the audience through his unique approach to tech-inspired creativity, surprising the crowd by hacking into their smartphones. Webb also gave insight into his past, running through previous projects as well as offering his insights on the future. Although still in his twenties, his playful style has seen him shine a light on a wide array of subjects, including time, space and mental health by, (sometimes quite literally), holding up a mirror to society's relationship with the internet.
Webb's latest art explores those issues using a myriad of inventive methods, such as digital clock faces that contain over 50 million potential arrangements, highlighting the uniqueness of each passing moment, to a Xanax emblazoned infinity mirror that displayed anti-depressant prescription rates from around the world, in real time.
HYPEBEAST caught up with Thomas before his presentation at EQ Home to discover more about his vision and what he's got in store for SXSW.
How would you describe yourself and what you do?
I'm Thomas Webb and I'm a multi-disciplinary artist, but lowkey I hack internet data. I create art using code most of the time, programming endlessly looping video game-like programs that use real-time data, or just algorithms, to express my views.
Where did your fascination with tech, coding and hacking begin?
Age of Empires. When I got that that game it was game over. I was learning to build computers so I could gain FPS [frames per second] in World of Warcraft. I used to build and fly electric helicopters when I was eight or nine, back in the 90s before we had drones. Then at 13, I hacked my school's computer network. I couldn't tell you when it begun; I don't remember a time when I didn't want to take something apart. When I learned to program microprocessors though, that's when things went mad. I realised you could control almost anything electronic with a chip and three wires.
Creatively speaking, what does technology allow you to express that other mediums don't?
 Traditional mediums don't have any dynamic capability. They're a snapshot expression. I don't think we live in that kind of world anymore and we haven't for a long time. Everything is real-time, instantly accessible and interconnected. Programming real-time data art or dynamically coded art allows my work to move with the world. I can program pieces to draw data from social media, statistics, bitcoin prices, app data, NASA, or anywhere really. Coding tech art allows me to make a statement about the world that in 10-20 years could be the polar opposite. I think art needs to move in that direction, it needs to reflect the world we now live in, and I don't think paint and canvas will ever do that.
What have you got planned for the Mercedes EQ home?
I'm going to show everyone a program I wrote to bring us all into the present moment. It allows me to control your phone over 3G or 4G, synchronised, in real-time. Once you're on it, I can open any app, get you to send pre-filled tweets, play videos, almost anything. It's great if I want everyone to see something or stop them from being distracted by their phone. I want to show everyone how we can connect in the space despite being in different parts of the globe and in real-time, experience the same moment. A lot of my work is about this, bringing people into the present moment with technology and not letting it take them away from it. Then I'll open their insta app on my page, get them to follow me, just to freak them out a little. People still think I can hack their ex's DMs. I can't, but it's jokes entertaining the idea.
You've been doing talks and presentations for a while now, what new topics are you excited about exploring at SXSW?
SXSW is mad. Like it's another level. You have everyone and everything here. Mobility is such a thing out here too, everyone riding around in electric vehicles. Austin is the one. Personally, I am really into VR, big Beat Saber fan. I'm excited to try and find some new VR and AR experiences that can push my senses to the limits. That's the goal of these festivals: inspire the masses with the cutting edge. Sometimes it's a raw and unrefined edge, but when it comes to tech, anything is a matter of time, it's just implementation. I could see the future right here and not know about it for another five years. That's what's so wild, anything here could be the next thing to change the way we interact with technology.
What are the ideas that Mercedes-Benz are presenting here that you're most excited about?
I think the future of cars is electric. It's renewable, it's sustainable, new methods of generating clean electricity provide 'zero' carbon emissions. These vehicles show us that automation is changing at an incredible rate and it's more accessible than ever. Automation will become a function of its very definition. It's about the ever changing mobility of your life.
What do you believe the future is for tech?
AI is going to start building programs for you, it's just going to happen. AI will start making stuff. Everything will be connected to the internet. Is the internet going to become this new neural network like aliens in Star Trek? Or will we move into the quantum world as IBM is working on their quantum computer? All we can do is wait and see. But first we have to figure out how to move faster than the speed of our thumbs, that's the key.


To discover more about the Mercedes-Benz EQ Home project, the EQC and how the brand aims to transform the future of transport, head to the brand's site.
Disclaimer: [Mercedes-Benz EQC 400 4MATIC | Stromverbrauch kombiniert: 22,2 kWh/100 km | CO₂-Emissionen kombiniert: 0 g/km | Angaben vorläufig: mb4.me/eqc-disclaimer]
Click here to view full gallery at HYPEBEAST