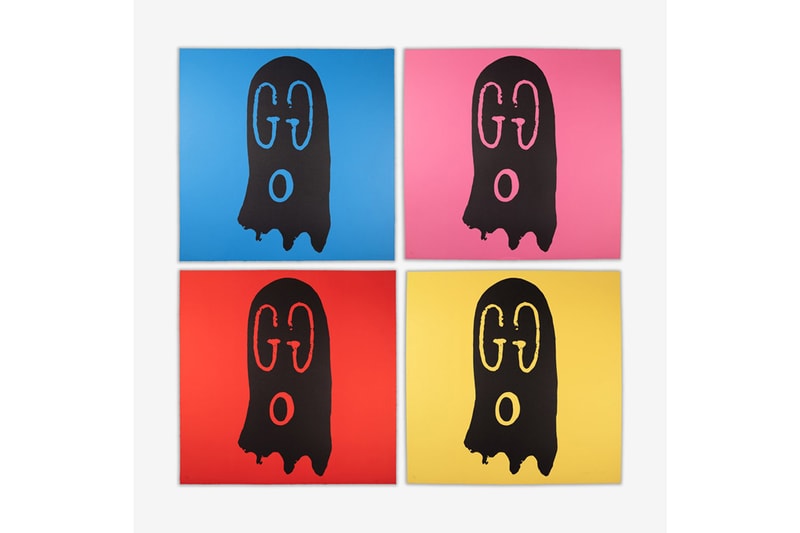 Trevor "Trouble" Andrew, aka GucciGhost, has announced a series of Original Gucci Ghost lithographic prints in what he says "will be the last time you see this original version" of this iconic design.
Trevor said in a press release, "the prints were created after I did one pull from the first-ever Gucci Ghost silkscreen that I had not been used since 2013. I poured resin on the screen so it will never be used again." The artist is known for his street art tag that turned everyday objects into Guccified works of art, distorting onlookers' opinions on what is real and what is luxury.
By taking away the brand's power of its well-known identity, Trevor attracted the attention of its creative director Alessandro Michele who in 2016, asked the artist to collaborate with Gucci to release a number of pieces in its seasonal collections.
For Original Gucci Ghost, Trevor goes back to his roots and has reproduced the iconic stamp via lithograph on blue, red, pink and yellow 300-gram paper. The pieces are available individually, measuring at 29.92-inches by 29.92-inches and comes signed by the artist, numbered and stamped by the publishing house, Print Them All.
There is also a single print which is comprised of four smaller lithographs, still measuring at 29.92-inches. It features all four colors and for this particular edition, there will only be ten copies for sale. The individual lithographs are priced at $602 USD each, without VAT, while the group of four is up for $2,821 USD, without VAT. To be in with a chance of picking up one of these limited-edition Trevor Andrew Original Gucci Ghost prints, head to the Print Them All website on July 18 at 9 AM PDT.
In other news, HYPEBEAST recently stepped inside the demonic world of Yok and Sheryo.
Click here to view full gallery at HYPEBEAST