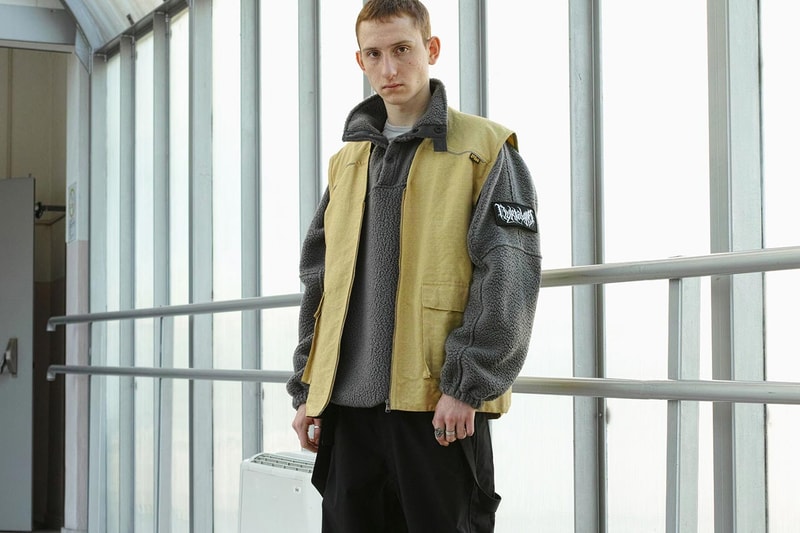 Emerging technical imprint GR10K intentionally maintains a low profile, operating under the mindset that it's preferable to draw in likeminded fans through mutual appreciation, than to appeal to the endless cycle of marketing and self-promotion. For Fall/Winter 2019, the brand's understated ethos is laid bare with a variety of effortless garments rooted in utilitarian design.
What distinguishes GR10K from its peers is the brand's base of operations inside "an undisclosed Italian plant that has been producing uniforms designed for labour-intensive industries and the military sectors since 1925." This unfettered access to unmatched craft ensures that GR10K's goods, whether they be ripstop jackets or a fire resistant vest, are not only made to exacting standards, but are informed by intelligent choices like GORE-TEX lining and deadstock textiles. Select styles directly repurpose archival styles, including an overshirt inspired by a garment produced for a transport company in Genoa and a wool sweater originally deployed for a security guards at an insurance company.
Historical significance adds an extra layer of purpose to the items, without taking away from the visual impact. Other key pieces need little introduction, and work well enough even without the thoughtful background. These range from a Polartec fleece upgraded with a "NEOHADES" patch and ripstop utility shorts inspired by designs made for the military to GORE-TEX-lined headgear and jackets, laser-cut tailored shirting and specialized heavy cotton tees.
Visit GR10K's site for more information on the brand and shop the new collection later this year. Global stockists include SSENSE, Notre, The Broken Arm, Tasoni and 8Division.
For more function-driven looks, check out NOMENKLATURA STUDIO's Spring/Summer 2020 lookbook.
Click here to view full gallery at HYPEBEAST