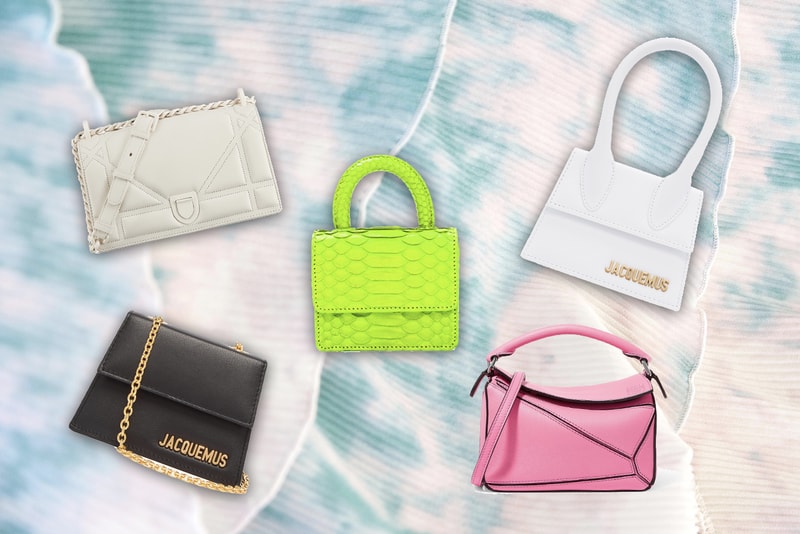 There's no doubt you've missed the ever-growing "tiny bag" trend that is taking the fashion world by storm. Jacquemus' iconic "Le Chiquito" bag acted as the catalyst that started the movement, and since the debut of the purse last year, celebrities and fashion icons alike have all been spotted carrying miniature bags. Kylie Jenner, Kendall Jenner, Gigi Hadid and more have all gotten hooked on the phenomenon, and we're predicting that the trend will only continue to grow.
"But what can you fit in them?" you may be asking, and the answer is: not much. The bags aren't meant to be convenient, they're meant to be a statement, so for our latest roundup we've compiled five of our favorite tiny bags that you'll want to invest in. Ranging from Jacquemus' small creations to pieces from Dior, Loewe and Gelareh Mizrahi, you'll want to get your hands on the petit beauties.
Take a look below to see our top picks.
Jacquemus 'Le Chiquito' Clutch
[shoppable brand="Jacquemus" product="White Le Chiquito clutch" link="https://www.ssense.com/en-gb/women/product/jacquemus/white-le-chiquito-clutch/3510419" store="SSENSE" price="$470 USD"]
[/shoppable]
Jacquemus
Material: 100% Calfskin Leather
Style Notes: Over-sized carry handle with top-flap closure, arrives with detachable cross-body strap with metal hooks.
Buy Now: $470 USD at SSENSE
Gelareh Mizrahi "ITSY BITSY MICRO MINI" Bag
[shoppable brand="Gelareh Mizrahi" product="ITSY BITSY MICRO MINI" link="https://gelarehmizrahi.com/products/itsy-bitsy-micro-mini-neon-green-python-top-handle" store="Gelareh Mizrahi" price="$250 USD"]
[/shoppable]
Gelareh Mizrahi
Material: Python Leather
Style Notes: Top-flap closure design with top carry handle.
Buy Now: $250 USD at Gelareh Mizrahi
Mini Dior 'Diorama' Bag
[shoppable brand="Dior" product="Mini Diorama Bag" link="https://www.dior.com/en_gb/products/couture-M0421IWLI_M030_TU-diorama-ultra-matte-small-bag" store="Dior" price="$3,500 USD"]
[/shoppable]
Dior
Material: 100% Matte Quilted Calfskin Leather
Style Notes: Detachable chain strap, matte white metal hardware with top-flap closure.
Buy Now: $3,500 USD at Dior
Mini Loewe Puzzle Bag
[shoppable brand="Loewe" product="Mini Puzzle Bag" link="https://www.net-a-porter.com/us/en/product/1100083/Loewe/puzzle-mini-textured-leather-shoulder-bag" store="Net-A-Porter" price="$1,750 USD"]
[/shoppable]
Net-A-Porter
Material: Bright-pink textured-leather
Style Notes: Detachable strap, top-zip closure and carry-handle atop.
Buy Now: $1,750 USD at Net-A-Porter
Jacquemus 'Le Piccolo' Clutch
[shoppable brand="Jacquemus" product="Black Le Piccolo clutch" link="https://www.matchesfashion.com/products/Jacquemus-Le-Piccolo-mini-logo-plaque-leather-cross-body-bag-1253082" store="MATCHESFASHION" price="$470 USD"]
[/shoppable]
Jacquemus
Material: 100% Leather
Style Notes: Chain cross-body strap in gold-tone metal hardware.
Buy Now: $470 USD at MATCHESFASHION
Click here to view full gallery at HYPEBAE