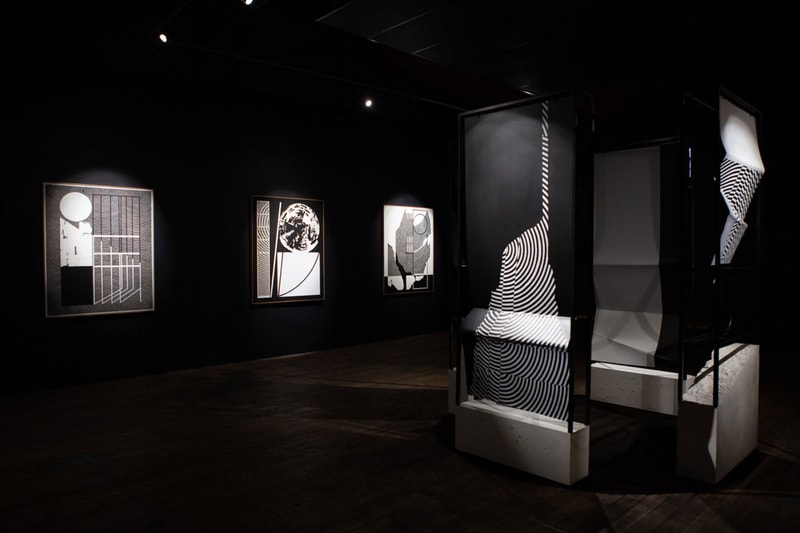 Australian contemporary artist Georgia Hill is having her solo exhibition debut at the Backwoods Gallery in Melbourne. Titled "A Measure of All Things", the exhibition features canvas pieces, various installations and paper studies exploring the relationship between structures and language, and how they act in tandem as a scale in which our experiences exist. Hill takes her more recent large-scale mural practice and channels it into smaller exhibition-sized works juxtaposing the simplicity and overwhelming concepts of experience through clear simplified forms clashing with complex, tension-filled repetition of textures.
Coming from Australia, Hill specializes in contemporary art. Her work often revolves around certain sites, including inner-city walls and 400-foot abandoned buildings spanning across India, New Zealand, Iceland, the US, Canada, Japan, Indonesia, and various Australian states. As a traveling artist, "A Measure of All Things" reflects Hill's personal experience of moving fast and slow across differing landscapes.
For those interested, Georgia Hill's "A Measure of All Things" exhibition is held at the Backwoods Gallery from May 31 to June 16.
And for more art news, Virgil Abloh opens his first curated art show "Coming Of Age."
Backwoods Gallery
25 Easey St, Collingwood
VIC, AUSTRALIA
Click here to view full gallery at HYPEBEAST