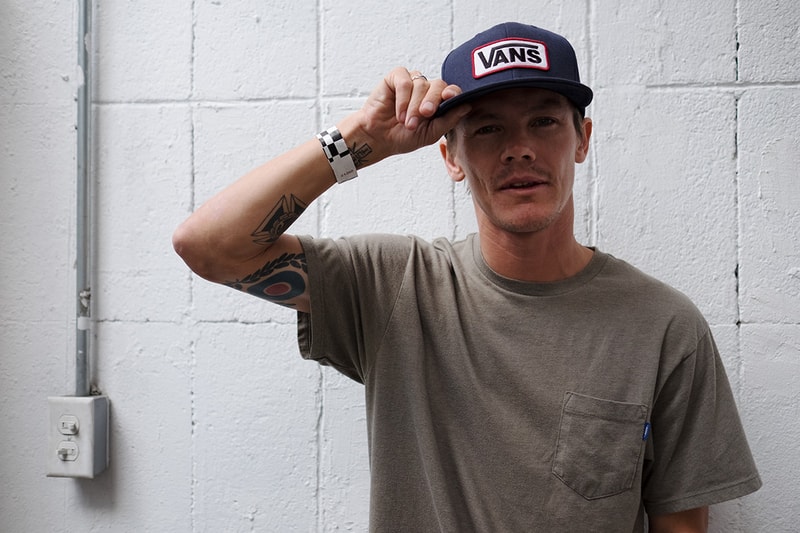 When it came to the 20th anniversary of his partnership with Vans, there was only one place that Geoff Rowley wanted to celebrate. The Liverpool-born skater returned to his home city more than 25 years after he'd first moved to Los Angeles, using the occasion as a chance to give back to his home community. To mark the anniversary, Rowley and Vans took over a Liverpool landmark with the premiere of his new "Take It Back" short film and a free-to-use skate ramp that was then donated to the city.
Rowley first started skating around the early '90s. At that time, skating in Liverpool wasn't the easiest experience. "It was raw," remembers Rowley. "Skating wasn't accepted, no one knew what it was, people were screaming at us in the streets." Despite these early experiences in Liverpool, Rowley quickly found a community of skaters, which shaped him and his career significantly. "You're a product of your environment, and this city gave me the foundation to be the person that I am today," he continues. "It's everything; I wouldn't be who I am without it. It shaped who I am completely."
"It was raw. Skating wasn't accepted, no one knew what it was, people were screaming at us in the streets."
At the time that Rowley was growing up in Liverpool, the idea of being a professional skater or being featured in Thrasher couldn't have felt further away. "It was thousands of miles away, it didn't seem achievable," he remembers, but local support gave him the confidence he needed to make the move. "There was a lot of love, and a lot of support from different people. That played a big role." At the age of 18, Rowley decided to pack his bags and move to LA, resulting in a pretty big culture shock for the young skater.
"I moved to America when I was 18 with $153 USD in my pocket. I didn't know what was going to happen," he recalls. Once he'd arrived in California, Rowley was shocked by the differences between skating there and skating back at home. "It felt really sterile and blanc when I first went out there, everything was so smooth. In England you grow up skating rough streets and you adapt, if you don't look at the ground you're going to hit a crack or fall on a piece of glass. It derailed me, it was too sterile and I needed that grime and grit and the people around me to keep progressing." Over time, Rowley found a group of like-minded skaters and, able to skate the way he liked again, he continued progressing.
As Rowley remembers it, skating back then was different. It was difficult to make money or a career from skating, meaning that his generation didn't know what to expect when they decided to cross the Atlantic. All they knew was that they wanted to pursue something they loved. After years of plugging away, a career began to form. "When skating started picking up in the mid to late '90s, people started to actually be able to feed themselves. It gave me a sense of independence; I was doing something I love to do." The idea of making a living from the thing he loved is still surprising to Rowley. "I have to hit myself on the head with a hammer every morning; I'm so thankful," he says, "I'm thankful that I'm not burnt out, I'm not bitter, I'm not pissed off at it. I still love the industry, I still love skating. That's my biggest achievement."
Not only has Rowley been able to pursue skating as a career, he's also reached the very top of the sport. Back in 2000, Rowley was named Skater of the Year by Thrasher, something which he says meant everything to him. After that call from the late Jake Phelps (which Rowley explains made him think, "I'm going to have to push myself physically on my board more than I've ever done") the Thrasher editor became an important figure for Rowley. "He believed in me and that's why I'm here right now. That person supported me all the way through continuously. I'd talk to him regularly and every time I talked to him it was like he was calling me to tell me I'd won Skater of the Year. He was hugely motivating."
"I'm thankful that I'm not burnt out, I'm not bitter, I'm not pissed off at it. I still love the industry, I still love skating. That's my biggest achievement."
Throughout that period, Rowley has also worked closely with Vans. As the partnership celebrates its 20th anniversary, Rowley attributes its longevity to the people at the company, and the ability to listen to each other. Rowley also believes that Vans' focus on skateboarding has been rewarding throughout the time. "Knowing that we have on-the-ground support from a huge brand fires me up, not just money thrown at us," he adds. "Throwing money at something is a lot different than picking somebody up with your own hands."
Rowley's partnership with Vans is also widely seen as relaunching vulcanized rubber shoes amongst skaters. "When I went to the brand, I knew what I wanted: I wanted a pair of black canvas Eras," he recalls. Rowley began skating in the Eras, leading to a realization. The shoes — out of popularity at the time — had better grip than anything Rowley had worn since his childhood. "I knew there was something there," he remembers. "When I got the chance to design the first pair, I wanted to put all of the original DNA from the '60s with good sock lining, a good ankle, tongue padding and good durability. It brought a better understanding of the vulcanized potential."
Anthony Acosta
Looking back at his career, Rowley often talks about the role other people have played in helping him. Whether it's the support of legends like Jake Phelps, or the skaters he grew up alongside in Liverpool, Rowley has always been keen to give back. Six years ago, Rowley signed for Lost Art, a much-loved skate store in Liverpool. "I've always been Liverpool blood and DNA," he explains. "I called Mackey [Lost Art's owner] to say I have to support the shop. I wanted him to know that I supported him. It's important that we support independently-owned skateboard shops. If we don't, we don't have culture."
Click here to view full gallery at HYPEBEAST