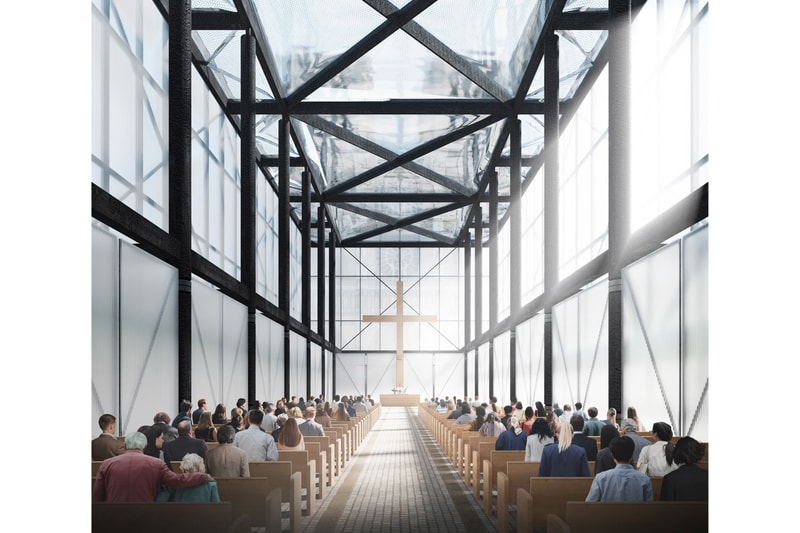 Amid domestic and international efforts to restore the 850-year-old Notre-Dame Cathedral after its tragic fire incident in April, renowned architecture firm Gensler has proposed a temporary solution for worshippers and visitors of Paris' most iconic church.
The plan is to build a temporary pavilion — aptly named Pavillon Notre-Dame — on the square directly in front of the cathedral that would serve as not only a place of worship but also a venue for markets and other various events to take place. The Pavillon will be designed to the exact measurements of the nave of the cathedral, giving visitors a sense of familiarity whilst paying homage to the monument. Its roof would be constructed with Ethylene Tetra Fluoro Ethylene cushions, whilst the walls come in moveable translucent polycarbonate panels.
Most importantly, as a tribute to Notre-Dame and its history, the frame of the Pavillon will be constructed with charred timber. Gensler principal Duncan Swinhoe says that "Charred timber, which is one of the oldest and most effective methods of protecting wood from fire, also symbolises that what once destroyed Notre-Dame will only serve to make it stronger, thus expressing a language of rebirth and transformation."
"It is important that the design is true to, but doesn't upstage, the cathedral," the architectural lead added. "We wanted to strike a balance between a structure that invites the community yet can be transformed to become a reflective and spiritual haven when mass is celebrated. We hope this offers the people of Paris, and the world, a statement of hope and rebirth."
As for the Notre-Dame Cathedral itself, French President Emmanual Macron has pledged to reconstruct the church in only five years — a feat many experts claim is impossible — just in time for the 2025 Olympics taking place in Paris.
For more things architectural, Hyde + Hyde has built a House for a Photographer.
Click here to view full gallery at HYPEBEAST