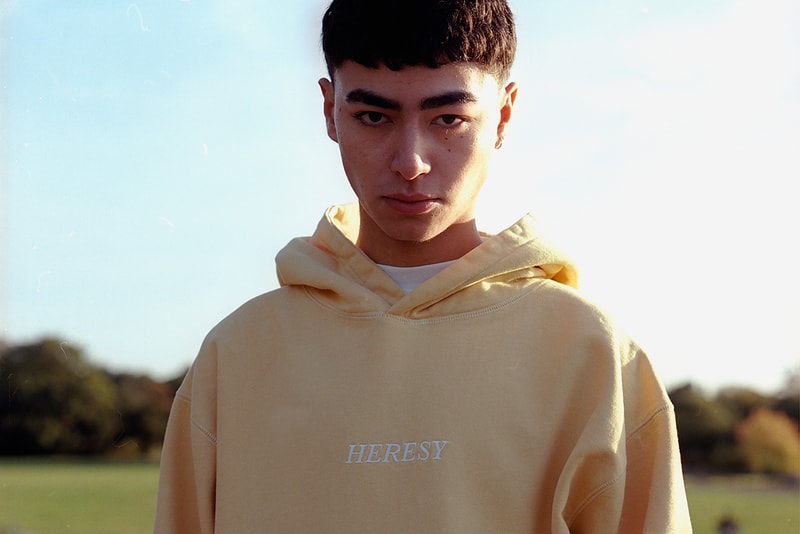 As well as more established brands such as Aries and Palace, the UK is home to a number of emerging labels. London's long been known for its forward-thinking design labels, but there's a world outside of the runway brands that HYPEBEAST know you'll be interested in. We've pulled together a quick guide to five of the best up-and-coming brands from across the UK. Taking inspiration from everything from traditional folklore symbolism to Mediterranean summers, these brands are five key labels to keep on your radar.
Heresy/Alec McLeish
Taking inspiration from traditional folklore, South London's HERESY references this influence across graphic T-shirts and sweats as well as classic workwear-stye pieces. For its most recent drop — titled "Astrolore" — the brand also incorporated nods to cult British TV show "The Old Grey Whistle Test" and early 20th century French film, Le Voyage dans la Lune. Stand-out pieces throughout the brand's collections include shirts, trousers and jackets covered in a range of folklore-inspired graphics.
Wayward
As an extended member of the Palace family, Wayward was launched by PWBC skaters James Edson and Daniel "Snowy" Kinlock back in 2017. Since then, the brand has become known for its graphic T-shirts, long sleeves and hoodies that reference British youth culture and its skate heritage. The brand's Spring/Summer 2019 collection featured numerous takes on its logo, as well as stand-out Staffordshire Bull Terrier and psychedelic font tees.
Henry Harwood
Founded by Patta and Gimme5 alumnus Damien Malontie, CareFree has gained a cult following for its simple Seinfeld-inspired graphics. Although T-shirts and sweats are the most visible part of the brand, they're far from the whole story. Last year, Malontie described CareFree as "like an older brother" to its fans, trying to educate a new generation about people who have made important and lasting contributions to culture over time. After starting out only releasing made-to-order pieces, CareFree is set to grow and grow over the course of 2019, spreading its message to a new audience.
Chloe Nour/copson
Although London-based COPSON has been around for a few years, the label is heading in a new direction, marked by a Converse collaboration focused on "feeling over product." The brand is known for a style that fuses skateboarding culture with a blissed-out Mediterranean aesthetic. COPSON has previously collaborated with BEAMS T and FILA, as well as working with New Balance on a European Summer-inspired sneaker, and recently dropped a new capsule of its Emotional House hoodies. Keep an eye out for big things — encompassing apparel, experiences and other projects — over the course of 2019.
paq
Initially starting life as a creative agency, paq has grown to include a fully fledged clothing line that has even been supported by Kendrick Lamar in the past. The latest collection from paq was dubbed "the co-z paq" and described by the brand as being "the perfect in-between for cozy circumstances." With this in mind, the collection features a number of branded long-sleeves and track pants in either "Khaki" or "Clay." Other key themes through the collective's latest release include the phrases "Wake Up" as well as "and start dreaming, the rest is history."
Click here to view full gallery at HYPEBEAST