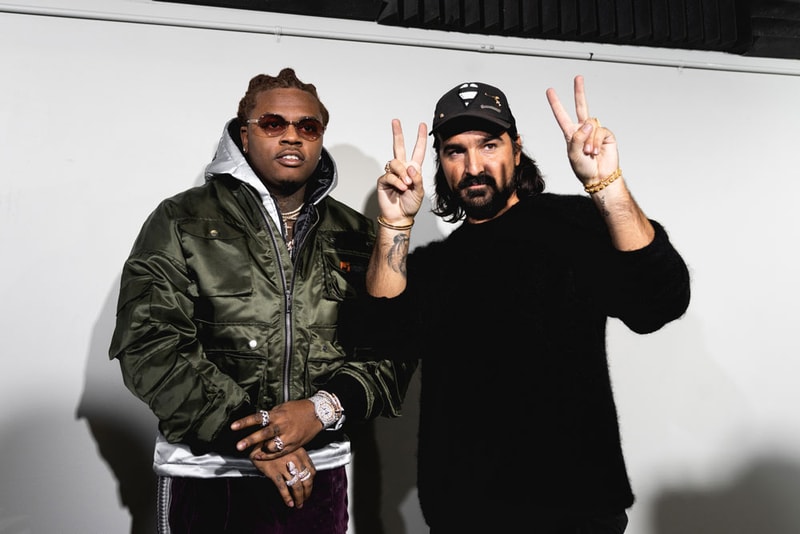 New York Fashion Week lost a big name when Raf Simons left CALVIN KLEIN last year, depriving the bi-annual event of one of its larger presentations. Still, the occasion offers fashion-focused observers plenty of indulgent events and must-see moments — so many, in fact, that major reveals become lost in the shuffle, as the cycle of news, trends, shows and happenings overtakes itself. As such, these are five of the must-see moments of NWFW Fall/Winter 2019 — even if you're already acquainted, consider this a refresher.
1. Dior's $35,000 Hajime Sorayama Saddle Bag
Credit: Akiharu Ichikawa/HYPEBEAST
Though it wasn't on the NYFW FW19 calendar, Dior held a private showing of its Hajime Sorayama-inspired Pre-Fall 2019 goods, offering press and top clientele a first look at the futuristic clothing and accessories. The crown jewel of the proceedings was a stunning $35,000 USD reimagining of Dior's signature saddle bag, tricked out in silver with steampunk touches. Though its price tag is the most salient detail, the bag also represents the success of Kim Jones as the head of Dior's menswear — within a year, the former Louis Vuitton menswear director has smartly guided the French label to the forefront of the street-meets-luxury conversation.
2. Plenty of Unexpected Collaborations
Credit: Eddie Lee/HYPEBEAST
Nearly every international Fashion Week has momentous collaborations and headline-worthy sneaker reveals, but NYFW FW19 delivered a host of head-turning gear that goes beyond the pale.
Credit: John Elliott
LA's John Elliott debuted a variety of new Nike, Suicoke and CAT footwear on the runway, but his most notable joint effort was a set of concept tires for the LexusUX. Inspired by his collaborative Nike Air Force 1 sneakers, the tires were embossed with Swooshes, "AIR" branding and the Force's outsole pattern. Elsewhere, Eckhaus Latta channeled the fashion industry's burgeoning UGG love into square-toed, shearling heels for men and women alike.
Eckhaus Latta x UGG. Credit:@nathanperkel
Robert Geller x Lululemon. Credit: Robert Geller
Todd Snyder x Descente. Credit: Alessandro Lucioni / Gorunway.com
Comparably conventional collaborations came by way of the Robert Geller-designed Lululemon clothes, yielding leggings, running shorts and lightweight hoodies in both neutral and neon hues. Elsewhere, the often-conservative Todd Snyder loosened up with a bright, colorblocked puffer coat crafted by Japan's Descente, followed by a stand-collar coat and branded pullovers. Finally, though N.HOOLYWOOD is no stranger to New Balance collaborations, its Fall/Winter 2019 reimagining distinguishes itself from past efforts with a graphic approach, stitching NB branding on the 996's toe box for the first time.
3. An Oasis: Underappreciated Fashion Week Presentations
Credit: Kozaburo
While the major players toiled to bring attendees both pomp and circumstance, New York Fashion Week also hosts presentations from smaller, quieter fashion labels, brands that seek to upend the in-your-face flash of traditional runways with intimate showcases. Key to this mindset is Deveaux, the quietly luxurious New York imprint directed by street style luminary Tommy Ton.
Credit: Daniele Oberrauch / Gorunway.com
For Fall/Winter 2019, the label served up another exquisite array of sophisticated, genderless layering pieces. Replete with flowing coats and belted jackets in warm, earthy colors, the covetable clothing was worn by a commendable cast of models that spanned age and race, with models prone to sudden embraces that embodied the presentation's "Love Is All Around" theme.
Credit: OVERCOAT
Similarly, OVERCOAT's FW19 lookbook debuted during NYFW, showcased another diverse lineup, with the models cozying up to the brand's graphic outerwear in a gratifying woodsy setting far from the concrete maze of New York. Then there was Kozaburo, the young Brooklyn-based designer who blended inspiration from Michael Jackson and Bruce Lee into lookbook packed with ever-more-adventurous garments, avant-tailoring and hidden meaning. Look no further than the centerpiece, the designer's workspace, a desk, was collapsing under the weight of fashion industry pressure, though a framed photo of the designer's wife remained intact, representing a precious lifeline.
Credit: Jackie Kursel/Bode
One of the quickest-growing independent labels in New York, Bode's raucously cozy presentation took place inside a small event space, a brief escape from Fashion Week's hustle and bustle. Inside, the tight confines forced guests into intimate closeness with the models, all clad in Bode's retro-cool clothes. This season was inspired by inspired by New York gallerist Todd Allen's adolescence, which also informed the tunes performed by In India, a band of Emily Adams Bode's college roommates. Though the room was compact, Bode's stunning craft stood tall, with richly patchworked outerwear, transparent coats lined with milk caps and hand-illustrated, honey-toned corduroys all confirming the brand's deserving status as a rising star — if that isn't enough to cement the young label as a must-watch, consider the bespoke suit that Bode crafted for Grammy winner Leon Bridges.
4. Progressive Casting
Maryam Nassir Zedeh FW19. Credit: Guillaume Roujas for NOWFASHION
Opening Ceremony FW19. Credit: Opening Ceremony
Telfar FW19. Credit: NOWFASHION
Palomo Spain FW19. Credit: Elizabeth Pantaleo for NOWFASHION
Less of a moment than a consistent, pleasant surprise, many designers that showed at NYFW FW19 displayed remarkable variety in their casting, with a host of labels demonstrating laudable model selections. Progressive brands like Gypsy Sport, Sundae School, Vaquera, Telfar and Eckhaus Latta affirmed their status as reliable curators of diverse presentations, while established names like Opening Ceremony and Maryam Nassir Zadeh also joined in with a lookbook and runway, respectively, that delivered upon the enlightened attitudes they've both cultivated.
Young designers Vasilis Loizides, PALOMO SPAIN and Ka Wa Key pushed even further, casting beyond racial and gender lines to deliver presentations that prodded the fashion industry's maligned glass ceilings. Though not every label on the week's calendar took the impetus to showcase diverse runways, the overall attitude at this NYFW was impressively open-minded, giving hope that the industry's resistance to change may finally be softening.
5. Palm Angels' NYFW Debut Yielded its Most Expansive Collection to Date
Eddie Lee/HYPEBEAST
Francesco Ragazzi took his boisterous Palm Angels label from the West Coast to the East, making his New York Fashion Week debut with a surprisingly refined selection of garments that blended militaria with tailoring. Trim blazers, overcoats and turtlenecks played host to a riot of zippers and pockets, with most items executed in versatile, neutral tones.
Eddie Lee/HYPEBEAST
It wouldn't be very on-brand if Ragazzi completely resisted flash. The new range includes metallic trousers, color-saturated tracksuits, tie-dyed cargos and a glitzy puffer printed with deer and chains alike are sure to please Palm Angels die-hards who crave a little chaos. The brand's Recovery Sneakers played host to vivid color-blocking, while oversized tees sported airbrushed graphics and gradient-dyed color.
Eddie Lee/HYPEBEAST
To say that the show had something for everyone would be a bit cliche, if not wildly inaccurate (how many of us really are looking for both leather dresses and Realtree shirting?), but one could hardly ask for a better NYFW premiere. Showcasing its increasingly mature garments in the Big Apple feel like a natural move for the ever-growing Palm Angels, but the question arises: will it become the anchor that New York Fashion Week: Men's needs?
Click here to view full gallery at HYPEBEAST