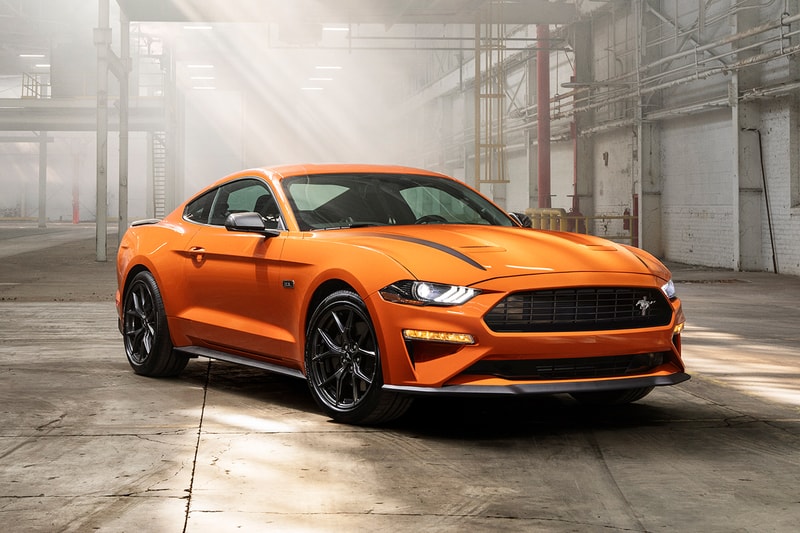 Ford has just revealed the 2020 edition of the Ford Mustang, one they are labeling as the "High Performance Package" with EcoBoost.
The 2-door coupe with deep seeded roots in street racing highlights Ford's trending movement towards better fuel efficiency while maintaining its stand on performance. The engine is a 2.3L twin-scroll turbo 4-cylinder that produces 330hp and 350lb-ft of torque. The new Mustang appropriately was a project within Ford that adopted the Focus RS's engine, placing the hot hatchback's powerplant into the Mustang for "enthusiasts and weekend autocrossers," as quoted by the brand.
Along with the high performance engine, the revealed 2020 Mustang will incorporate brakes and upgraded independent suspension from the Mustang GT, stiffened bracing and thicker sway bars both front and rear, and — with the Handling Package addition — a TORSEN® 3.55:1 limited-slip rear axle and calibrated MagneRide® dampers for maximum cornering abilities. Ford claims the new Mustang will run a 0-60 in the mid-four-second range on premium fuel and top out at 155mph.
Carl Widmann, Mustang chief engineer, stated the project's intentions:
"The Ford Performance Focus RS 2.3-liter engine is a high-revving marvel, and anyone who's driven this EcoBoost engine instantly loves how quickly it responds and delivers power. When our team got the chance to try this specially built engine in a Mustang, we immediately agreed, 'We have to do this.'"
Available in both 10-speed automatic as well as a 6-speed Getrag manual, the 2020 Ford Mustang will arrive later this fall at Ford dealers in Grabber Lime, Iconic Silver, Red Hot Metallic Tinted Clearcoat and, seen above, Twister Orange. Learn more at Ford.com and, in other consumer automotive news, Tesla has discontinued the Standard Model 3 in favor for the Standard Plus with Autopilot as the base model.
Click here to view full gallery at HYPEBEAST