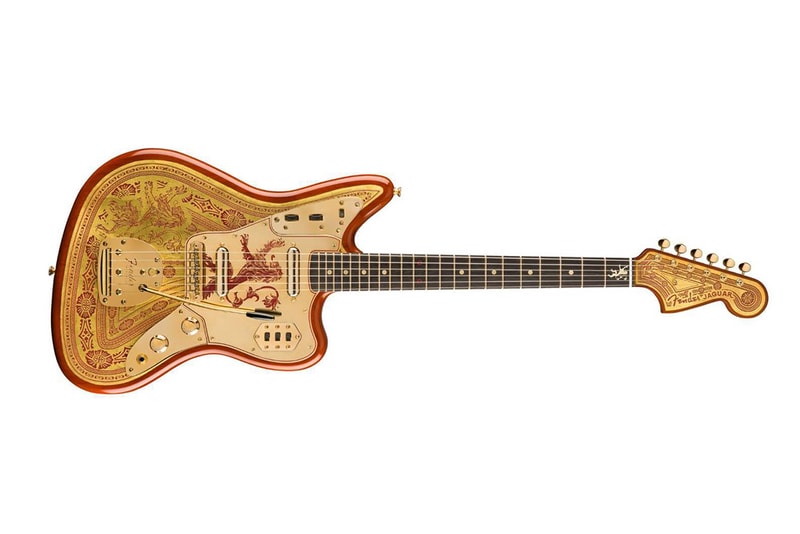 Fender has given its iconic Telecaster, Jaguar and Stratocaster models a Game of Thrones rework, seeing the guitars sport custom, handcrafted designs celebrating three houses from the hit HBO series. Emulating the sigils associated with House Stark, House Targaryen and House Lannister, each guitar will be built-to-order under Fender's Custom Shop service and come complete with a host of ornate features.
The House Stark Telecaster guitar is agrey model consisting of a maple neck and an ebony fingerboard. The Telecaster also receives a heavy dose of decorative inlaid sterling silver that represents the stark surroundings of Winterfell, as well as direwolf sigils depicted in silver on the first fret and the embossed nickel silver pickguard.
The House Lannister Jaguar features a 24k gold leaf design that showcases the Lannister coat of arms and a nod to the Red Keep on Aegon's Hill in King's Landing. Featuring gold hardware and a gold-plated pickguard which is engraved with the Lannister sigil, the Jaguar is finished with a hand-cut and engraved brass lion sigil, rounding off its regal design.
The final design sees the legendary Fender Stratocaster adorn a Targaryen-inspired design. Drawing inspiration from the Daenerys-lead House, the Stratocaster is completely reworked with a carved dragon scale body and an engraved sterling silver three-headed dragon sigil. The Targaryen model is finished with a hand-tooled stained leather pickguard which features the House's sigil and an etched neck plate.
Planned for two years, the collection stems from a friendship between GoT creator D.B. Weiss and Fender CEO Andy Mooney.  Pricing for the Fender x Game of Thrones Sigil Collection ranges from $25,000 USD to $35,000 USD. Each guitar takes over 100 hours to make at the hands of Ron Thorn, a Fender Custom Shop expert known for his inlaying skills. Each guitar will be accompanied by a complementing House-themed carrying case.
Head over to the Fender Custom Shop website to find out more about the collection.
For more GoT news, check out the cast answer a number of pressing questions in a Jimmy Kimmel Game of Phones comedy sketch.
Click here to view full gallery at HYPEBEAST