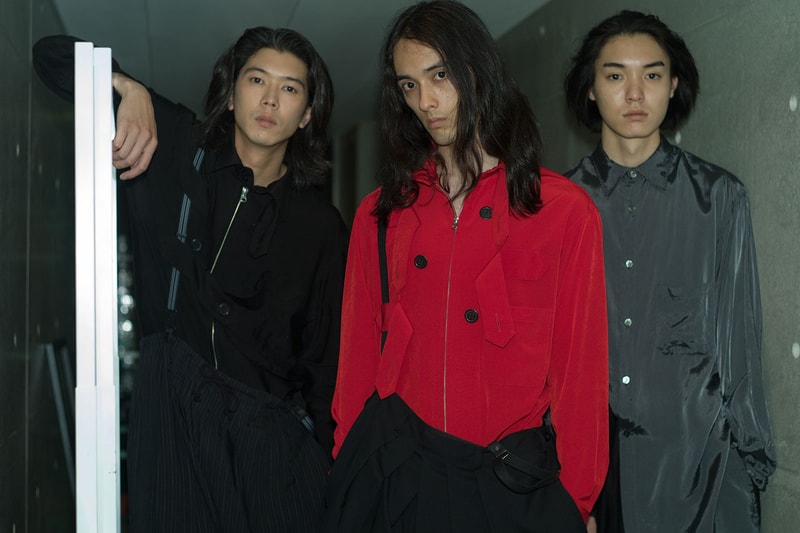 Yohji Yamamoto's Y's sublabel has enjoyed a continued presence in the decades since its inception as a diffusion-styled "essentials" line, recently coalescing into a more streamlined offering with premium quality in line with the designer's mainline collection. As Yamamoto's design team advances the company's output, Y's has returned to the runway for the first time in five years, presenting a Fall/Winter 2019 collection dubbed "ZENTHE," complete with a collaboration with Japanese-owned Italian textile producer Alcantara and new goods under the BANG ON! banner.
Y's was originally conceived in the early '70s as Yamamoto's first clothing line, before he took his eponymous womenswear label to Paris a decade later. Eventually, Y's expanded to menswear as it was reformatted as a selection of Yamamoto-approved wardrobe essentials, complementing the adventurous mainline and Pour Homme offerings. Offshoots included Y's Pink and Red Label, before the team eventually merged everything into the current Y's iteration, wherein the brand offers exclusively womenswear, supplemented by diffusion labels like S'yte and Ground Y.
The runway presentation was packed with drapey Y's goods, including pieces from the new Y's BANG ON! line, which offers season- and genderless items. It also reimagines archive goods from Yamamoto's past. Bold splashes of red and navy intersperse the enormous black shirts and billowing trousers, with plenty of Yamamoto's signature suspenders reinforcing the timeless styling. Fur-trimmed and neppy wool outerwear lent weight to the lighter shirting and slacks, with graphic accents — including a familiar Yamamoto staff coat — bolstering the visual appeal.
Check out the goods above and expect the new items to hit Yamamoto's website and stores later this year.
Most recently, Yamamoto's Ground Y introduced a collaborative range of Marilyn Monroe-printed items.
Click here to view full gallery at HYPEBEAST