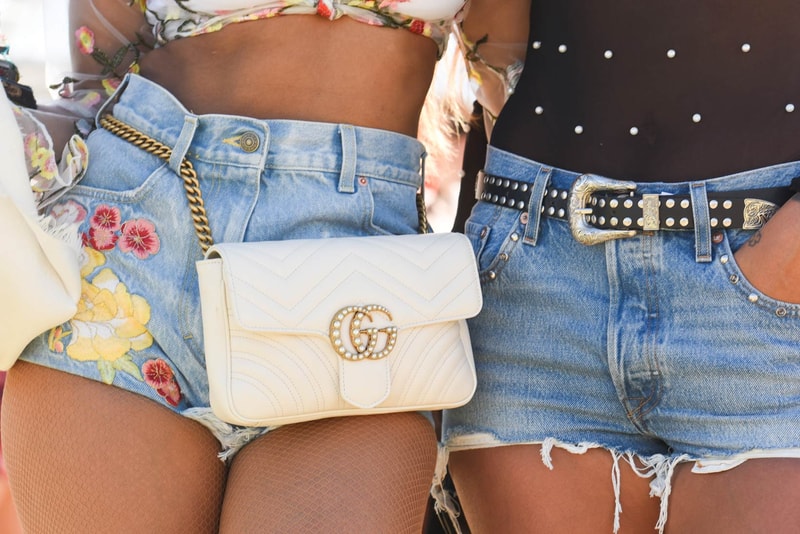 Festival season has officially begun which means you'll be spending long days in the sun enjoying performances from your favorite music artists. The buzzy atmosphere is the optimal way to spend a spring or summer day but things can quickly be ruined by unexpected rain, chapped lips or a dead phone. To get you prepared for your favorite live experiences we've rounded up must-have items for music festivals and concerts. Nike and e.l.f. provide affordable items that are definitely necessary for outdoor events. We also selected some unexpected products like silk hair ties and a portable charger that will come in handy.
Peep our festival survivor's guide below.
Beauty 
La Roche-Posay Anthelios Lotion Spray Sunscreen, available at La Roche-Posay for $36 USD
Buxom Powerplump Lip Balm, available at Sephora for $18 USD
e.l.f. Post-Workout Cleansing Body Wipes, available at e.l.f. for $3 USD

 
slip slipsilk Skinny Hair Ties, available at Nordstrom for $39 USD
Sun protection should be a top priority for anyone spending the day outside. Unfortunately sunscreen doesn't last for long so having a multi-use SPF mist is mandatory for festival-going. Freshening up may also become an issue with the lack of actual bathrooms. Carrying wipes saves you from having to search for a water source and can really become useful at dust-filled events like Coachella.
Fashion
Nike Windrunner Jacket, available at SSENSE for $115 USD
adidas Mini Holographic Clear Backpack, available at Nordstrom for $36 USD
Louis Vuitton Palm Springs Backpack, available at Louis Vuitton for $1,940 USD
CHIMI Neon Sunglasses in "Kryptonite Green", available at CHIMI Eyewear for $149 USD
Festival style is pure freedom. Women can wear whatever their hearts desire creating a welcoming atmosphere. What usually isn't welcomed are rain showers and cloudless days where the sun beams on forever. To stylishly keep your skin safe from the elements we chose a sleek rain jacket and eyewear to complement any look. You'll need a reliable place to carry these items so a mini backpack or fanny pack is ideal.
Extras 
Kreafunk Tocharge Portable Battery, available at goop for $64 USD
que CollapsibleTravel Bottle, available at que for $25 usd
Lily-Lark Zebra UV Protection Sun Parasol, available on Amazon for $166 USD
Festivals are usually equipped with water fountains which makes que's collapsible water bottle that much more useful. The bottle doesn't take up much space and it keeps concert-goers accountable for their daily water intake. Your body isn't the only thing that needs fuel, your phone does as well. Save yourself the panic by packing a convenient portable charger so that you can keep in contact with your crew and record all of the day's memories.
Click here to view full gallery at HYPEBAE