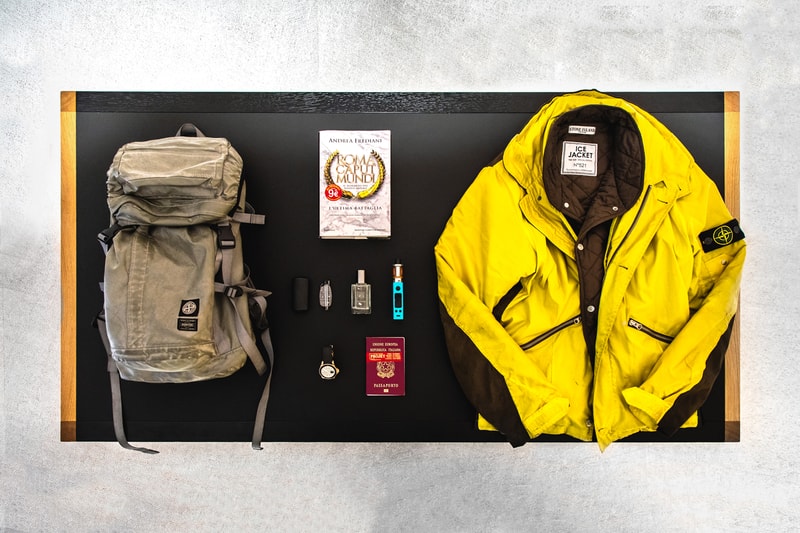 Fans of Stone Island will be delighted for this new installment of HYPEBEAST Essentials. This time around, CEO Carlo Rivetti sat down with us to examine some of his must-carry items he takes with him while traveling outside of Italy. The first item he shared with us was his Stone Island x Porter backpack which he keeps all his crucial items in — on top of his e-cigarette cleaning supplies, Stone Island fabrics and writing utensils, we were surprised to learn that he carries quite the assortment of candies for his sweet tooth cravings.
Moving on, Carlo Rivetti shared his appreciation for physical books and joking explained, "My wife is Roman so I figured a book on Roman history wouldn't hurt to read." While the passport was self-explanatory due to his countless flights a week, the e-cigarette told us a more shocking part of Rivetti's past lifestyle, as he told us without flinching that four years ago he would smoke up to 80 cigarettes a day — something he hasn't touched since purchasing the vape.
Rounding off the set of personal belongings was a Rolex Yacht-Master which his family gifted him after his recent purchase of a sailboat, and his signature Fueguia 1833 Malabrigo musk fragrance.
For more Stone Island news, check out the new "Fluo Orange" collection for SS19.
Click here to view full gallery at HYPEBEAST