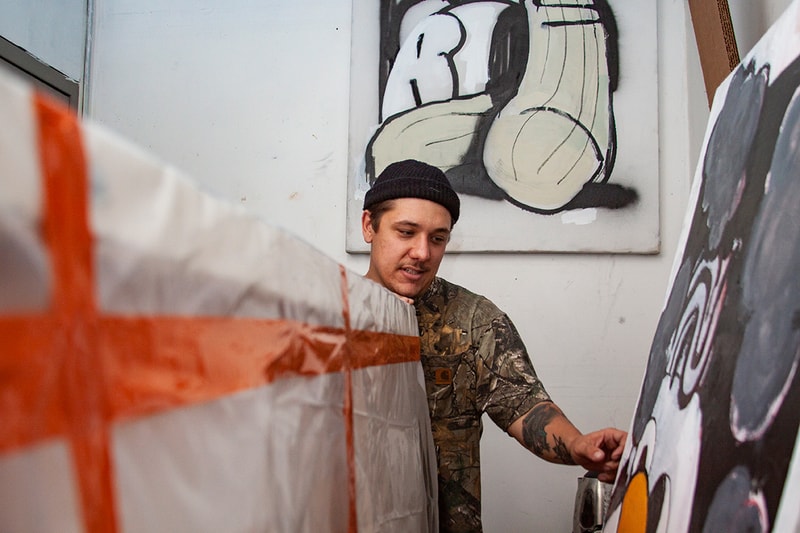 Bay Area artist Erik Bender takes on an interdisciplinary approach when it comes to his creative work output. Bender's practice consists of figurative-meets-abstract paintings and carved plaster reliefs that are influenced by graffiti culture and urban life. His compositions are largely comprised of cartoonish subjects, letterforms, and a muted palette. The artist is slated to launch on a new solo exhibition at First Amendment Gallery in San Francisco called "REAL ICKY."
"For 'REAL ICKY,' Bender muses on the unknown and unfamiliar, maneuvering his expansive letterform characters in expressionist shapes to create an energetic visual dialog chronicling the many facets of the human condition," said the gallery in a statement. "Set in a noir-esque city of heightened tension and high stakes, Bender's wide-eyed, youthful figures employ magic to duck around corners and tuck into the cuts, hiding from the spectral forces of the law."
Get a closer look at Bender's multifaceted works in the slideshow above and then visit First Amendment Gallery's website for further details. "REAL ICKY" will run through August 3-30.
Elsewhere in art, Ryan Travis Christian will display surrealist graphite artworks in New York City.
First Amendment Gallery
1000 Howard St.
San Francisco, CA 94103
Click here to view full gallery at HYPEBEAST