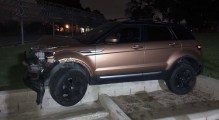 A 19-year-old suspected drunken driver crashed her vehicle into the entrance gate of an Orange County jail in Irvine early this morning and was quickly arrested.
Photo Credit: OC Sheriff's Department
This story uses functionality that may not work in our app. Click here to open the story in your web browser.
Source: NBC Southern California – Southern California News – JONATHAN LLOYD