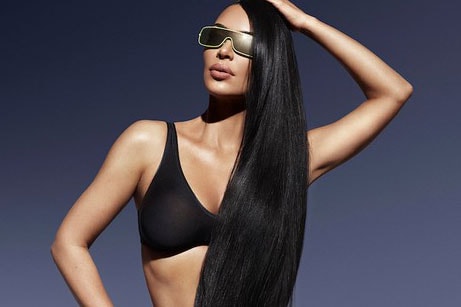 Following Kim Kardashian's involvement with the lawsuit against Missguided, Diet Prada accuses the reality star of copying Emilio Pucci's Spring/Summer 2017 sunglasses design. The item in question is a green-lined piece available on Carolina Lemke's website.
In the campaign shot, Kardashian is seen posing with her Chaotix sunglasses. On Diet Prada's account, a side-by-side of Kardashian's campaign, a candid pic, the original Emilio Pucci pair and the "copy" are placed. At first glance, the two sunglasses do look suspiciously similar. The difference is that the Chaotix pair are slightly more rounded and curved.
"Hey @kimkardashian, so it's def not cool to use someone else's name and likeness when promoting knockoffs, as evidenced by your win against @missguided," writes Diet Prada. "But should it be ok to use your OWN name and likeness to promote them? Lol. Funny how those SS17 @emiliopucci shades you wore in August 2018 ended up in your eyewear collab with @carolinalemkeberlin that launched in April this year. Hypocrisy at its finest! ✨"
In the comments, fans have not taken kindly to the controversy. Many have pointed to the hypocrisy of the situation, while others are debating whether these are really similar or not.
Kardashian and Carolina Lemke have not yet released an official statement regarding the accusations.
Click here to view full gallery at HYPEBAE