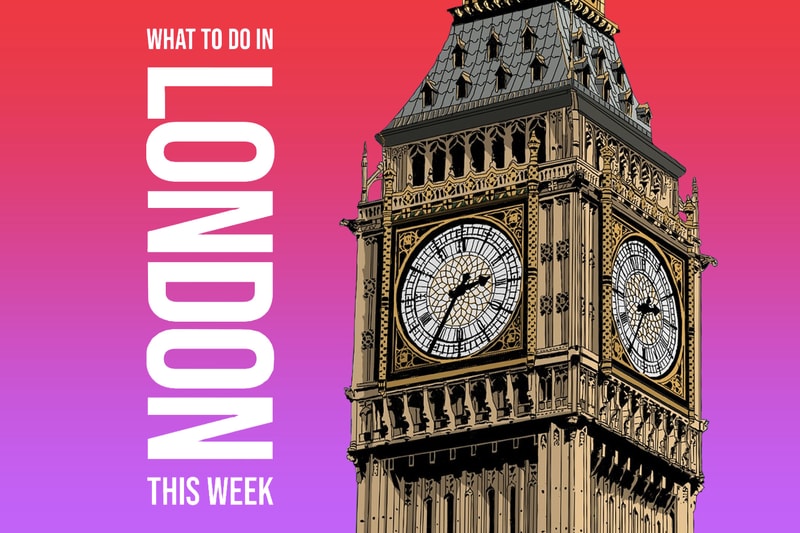 At a loose end for happenings in the UK for the next week? HYPEBEAST has plenty of options for you. There's more than enough happening this week, the concerts this time lead with Dave, IAMDDB and Mahalia, while Drake continues his Assassination Vacation tour.
There's also more than enough sample sales, new restaurants and exhibitions to visit while you're in the city. So without further ado, here's a list of happenings on the weekend of April 5 and beyond.
Music & nightlife

PRINCE WILLIAMS/WIREIMAGE
Where: The O2, London
When: April 5/8/9/11, 7pm
Drake continues his O2 residency, this time performing his Assassination Vacation tour for four nights. Expect surprise guests, surprise trailers and all of his hits.
Joseph Okpako/WireImage
Where: O2 Academy Glasgow
When: April 12, 7pm
Dave begins his tour after the phenomenal success of his album Psychodrama. Beginning in Glasgow, you can look forward to performing hits from the release as well as a host of surprise guests.
Frank Hoensch/Redferns
Where: SWG3, Glasgow
When: April 11, 7pm
If you're in the mood for hip-hop from the older school, GZA is in town, performing in Glasgow. As part of his 2019 Liquid Swords European tour, you can expect the Wu-Tang legend to perform hits from his classic solo and group albums.
Christie Goodwin/Redferns
Where: Manchester Club Academy
When: April 5, 7:30pm
Maverick Sabre recently released his album When I Wake Up and now he's taking it on the road in his latest tour. With features from Jorja Smith and Chronixx on his latest album, don't be shocked if someone well known makes an appearance.
ROBERTO RICCIUTI/REDFERNS
Where: Albert Hall, Manchester
When: April 7, 6pm
IAMDDB continues her tour, this time performing in Manchester. We can safely assume she'll be making hits from Swervvvvv.5.
Matt Jelonek/WireImage
Where: O2 Ritz Manchester
When: April 9, 7pm
Mahalia's buzz continues to grow, having recently released songs such as "Do Not Disturb." Now the singer will take her tour to Manchester, performing at the O2 Ritz.
Johnny Nunez/WireImage
Where: O2 Forum, Kentish Town
When: April 10, 7pm
Jacquees has mostly acquired infamous status since his comments about his place in R&B, but he's still touring. He'll likely be performing hits from 4275, as well as his Birdman collaborative album Lost at Sea 2.
Food
@kazutoshi.endo
Where: 8th Floor, The Helios, Television Centre, 101 Wood Lane, London, W12 7FR
When: Opens April 9
Endo Kazutoshi is the master sushi chef behind this venture, a small restaurant with only 15 seats. Already a hot ticket, expect it to be a struggle to book a table.
Little Yellow Door
Where: 6-8 All Saints Road, London W11 1HH
The Little Yellow Door, a homely pop-up space, has now gone permanent. Based on the idea of the perfect flatshare, there's a bar serving cocktails alongside a restaurant that sells dishes such as salt and pepper squid, lime leaf and lemongrass dipping sauce.
Art & Cinema
Brill/ullstein bild via Getty Images
Where: Serpentine Sackler Gallery, West Carriage Drive, London, W2 2AR
Artist and filmmaker Hito Steyerl is known for exploring the complexities of the digital world, looking at video games, surveillance and art production.
Queer Spaces: London, 1980s – Today
Courtesy the artists and Arcadia Missa
Where: Whitechapel Gallery, 77-82 Whitechapel High St, London, E1 7QX
Queer Spaces: London, 1980s – Today focuses on the recent history of LGBTQ+ community in London, starting in the 1980s and focusing on campaigning groups and social spaces alongside the growing bars and community centres. There's a host of unseen news from that period, alongside an interactive map charting the appearance and disappearance of these spaces over the last 30 years.
Courtesy of www.EdvardMunch.org
Where: Room 35, British Museum, Great Russell Street, London, WC1B 3DG
One of the most famous artists ever, everyone is familiar with Edvard Munch's most well known work, The Scream. The latest exhibition looking over Munch's work is a collaboration between the British Museum and Oslo's Munch Museum and takes a deep look at his career and works.
Fashion & Shopping
KITH at Selfridges
Selfridges
Where: Selfridges, 400 Oxford St, Marylebone, London W1A 1AB
Kith has found its way to the UK, launching inside a space at Selfridges. The famed store will be serving its famous cereal and ice cream as well as showcasing its wares.
Click here to view full gallery at HYPEBEAST