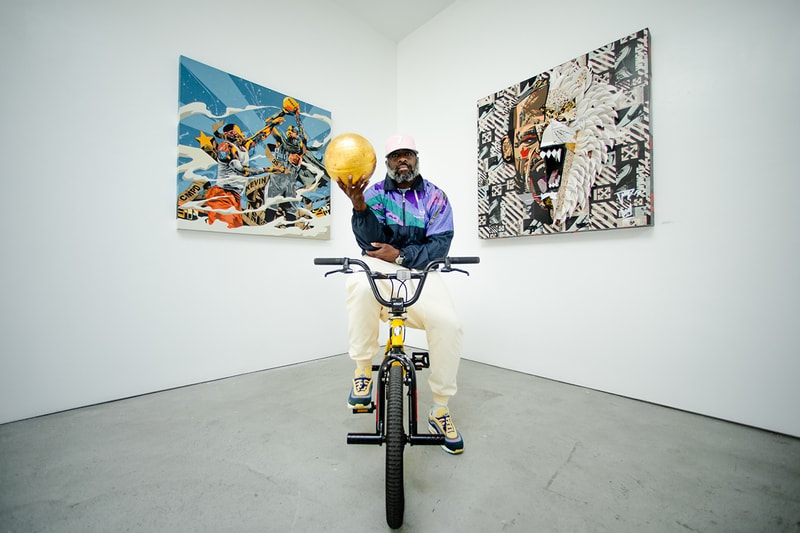 Set Free Richardson's Compound Gallery in the South Bronx is celebrating the National Basketball Players Association's fourth annual Voice Awards in its latest exhibition.
NBA players are the only people who can vote in the Voice Awards and cast their bids based on a multitude of factors such as MVP and Most Respected Awards to the Freshest, Best Side Hustle, and People's Champ Awards. The players highlighted in artworks — and celebrated for their awards — include LeBron James, Kevin Durant, PJ Tucker, Rudy Gobert, Gordon Hayward and more.
Compound Gallery will be showcasing all of the NBPA's Voice Awards at its South Bronx outpost for two weeks. It will consist of digital and oil paintings, 3D works and the trophies awarded to the aforementioned players. Set Free Richardson opened the gallery back in July 2018 and has since displayed works by underrepresented artists in search of the next big icon in the art world.
The gallery will showcase unique pieces by 11 artists who were enlisted by the NBPA to design the awards. Each artist chose a specific medium and approach to evoke their winning player and their achievements. Compound Gallery will show pieces from Ron English, Naturel, BK The Artist, Free Hand Profit, King Saladeen, Dragon76, Bahar Bambi, Andre Trenier, Christophe Roberts, Devon Rodriguez, and the Vera Twins. Together, the artists channel the NBPA's message to represent and celebrate the collective Players' voice.
Take a look at the exhibition above and see it for yourself during its two-week-long showcase from August 22.
In other news, photographer Amir Zaki has analyzed California's skateparks in his latest series.
National Basketball Player's Association Voice Awards Artworks
Compound Gallery,
2422 Third Ave.
Bronx, NY,
10454
U.S.A.
Click here to view full gallery at HYPEBEAST