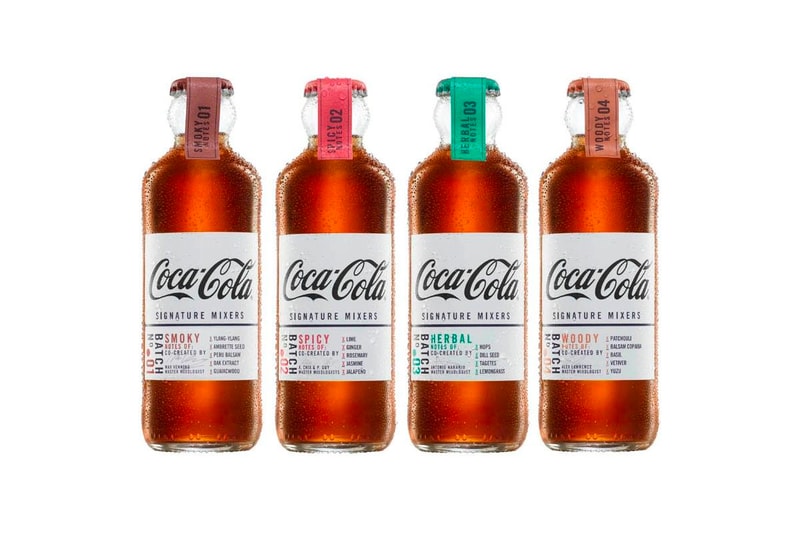 Beginning its expansion into products aimed at adults, Coca-Cola recently unveiled its new series of Signature Mixers.
Expertly crafted by some of the world's top mixologists, the beverages are crafted to pair excellently with dark spirits. The group of bartenders tasked with reimagining the unique familiar flavor of Coca-Cola experimented with over 200 contemporary and traditional ingredients to come up with four original drink concoctions.
Honoring the beverage brand's heritage, the Signature Mixers are sold in a modern take on the Hutchinson glass bottle which pre-dates the contour bottle that has become synonymous with Coca-Cola. Additionally, each batch is stamped and marked with the signature of the bartender behind the mix.
Learn more about the Coca-Cola Signature Mixers below.
For more food news, NIGO and Pharrell recently came together to create the HUMAN MADE "Storm Cowboy" sake.
01 Coca-Cola Signature Mixers Smoky Notes by Max Venning, Bar Three & Three Sheets, London

An intensely aromatic blend, with smoky hints, this mix brings nuanced dimension to deep, spiced rums and bold, premium whiskeys. Ylang Ylang and ambrette seed, which inhabit the top layer, are balanced with an elegant base of warm brown spices; Peru Balsam.

02 Coca-Cola Signature Mixers Spicy Notes by Adriana Chía, La Antigua Compañía de las Indias, Barcelona & Pippa Guy, The American Bar at the Savoy, London

With a warm introduction that gives way to a fiery finish, this Signature Mixer is a sophisticated and complex blend. Citrusy lime, ginger, spicy jalapeño, fragrant rosemary and aromatic jasmine combine to create a mixer with a considered balance of zest and earthy flavors that pairs beautifully with spiced rums, aged/gold tequilas and spicy or sweet whiskeys.

03 Coca-Cola Signature Mixers Herbal Notes by Antonio Naranjo, Dr. Stravinsky, Barcelona

A delightfully floral, crisp and tart mix, this Signature Mixer was developed to deliver fresh and herbaceous notes for the discerning palate. Balancing refreshing notes of lemongrass with the earthy tones of dill seed and tagetes, it is an inviting mixer with a refreshing, simple profile that pairs beautifully with whiskeys and most types of rum.

04 Coca-Cola Signature Mixers Woody Notes by Alex Lawrence, Former Head Bartender, Dandelyan, the Mondrian, London

Crafted from a subtle blend of earthy patchouli, citrusy yuzu and aromatic basil, this Signature Mixers has a tart, light and refreshing profile, with a hint of warmth. These elements, expertly blended, combine to elegantly enhance the mellow wood and sweet tropical flavors of golden rums and smoky to woody whiskeys.
Click here to view full gallery at HYPEBEAST