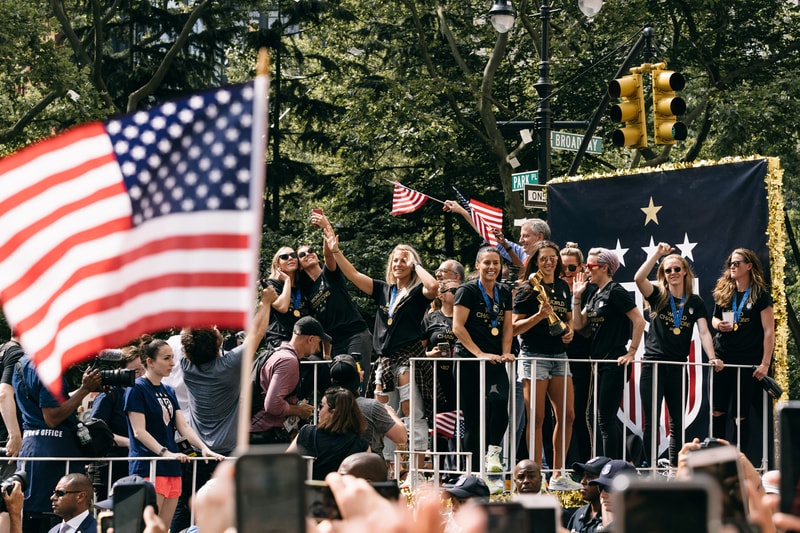 Following their historic World Cup win, both athletically and socially, the United State Women's National Team paraded through New York City, celebrating with fans from all over the country.
In what was a near-three-hour-long event that kicked off around 9:40 a.m., players as well as coaches, family members and even Mayor and Presidential Candidate Bill De Blasio mounted floats that traversed the Canyon of Heroes — a stretch of Broadway from Battery Park to City Hall. Scored to the chants of "equal pay," a recurring topic during this year's Cup, Rapinoe, Morgan and company waved, danced, drank champagne and took selfies as they weaved through the thousands of fans lining Gotham's streets.
The ticker tape parade concluded at Town Hall where the team held a commemorative rally. Gratitudes were expressed, keys to the city were exchanged, marching bands performed, but it was Megan Rapinoe's speech that everyone in attendance and everyone watching at home were looking forward to. After shouting out her teammates, the USWNT staff and the federation, the co-captain spoke to us, the fans and fellow Americans.
"This is my charge to everyone: We have to be better, we have to love more and hate less. Listen more and talk less. It is our responsibility to make this world a better place," Rapinoe told the crowd. "Do what you can, do what you have to do, step outside yourself. Be more, be better, be bigger than you ever been before. If this team is any representation of what you can be when you do that, please take this as an example."
Then, in signature Rapinoe fashion, the two-time World Cup champ shouted, "New York City, you're the motherfucking beeeesssssstttttttttt!"
You can watch the entire parade and rally below, which kicks off at around the 1:14:00 mark, while the rally starts at the 2:43:00 mark.
Click here to view full gallery at HYPEBEAST