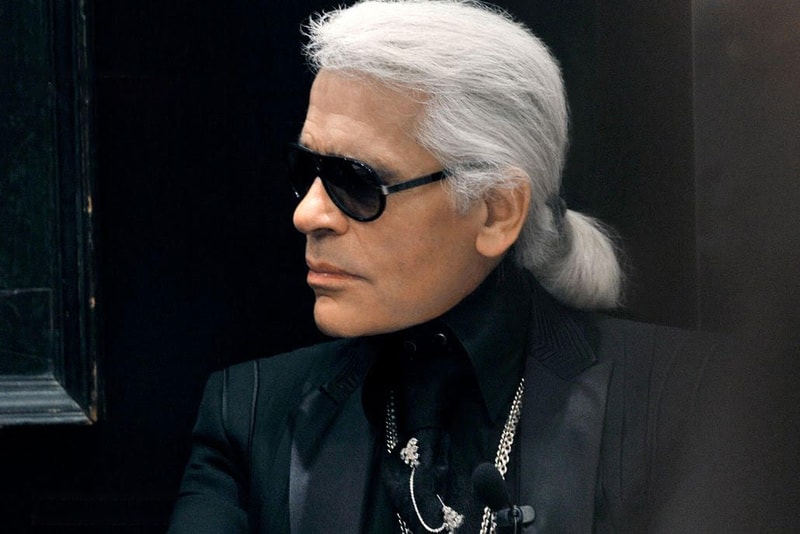 Chanel honors the passing of Karl Lagerfeld, its longtime creative director and public face, by introducing its Métier Class podcast. A new iteration of the house's 3.55 podcast, created in collaboration with Monocle and Tyler Brûlé, the four-episode podcast will center around the French company's legendary attention to detail and craftsmanship.
Having cast a massive shadow over the fashion industry, Chanel had to bring forth two directors to succeed The Kaiser, who sat down with Brûlé in December to record what would be one of his final interviews ever. Since 1983, Lagerfeld brought his vision for the storied fashion house to life, and though he is often fairly brusque in interviews, he opens up to Brûlé, offering listeners a rare glimpse into his inner workings.
There's some unsurprising admissions — Lagerfeld wholly rejected Instagram — alongside plenty of juicy tidbits. For instance, Lagerfeld's advice on how to multitask is simply to "[not] think about it" and just get it all done. Considering that Herr Lagerfeld was responsible for overseeing multiple seasonal offerings for Chanel, Fendi and his eponymous label, plus other projects, few people in fashion had more on their plate at any given moment.
Brûlé also touches on how Lagerfeld was "a walking museum," filled to the brim with knowledge. The two consider the importance of maintaining this internal databank in a digital age, reflecting on how younger creatives rely on their devices to stay on top of their tasks, while Lagerfeld was proudly analog. "Before the 18th century, there was no bad taste," Lagerfeld reflects. Later: "Though there's a lot of good stuff around … I don't think [modern creatives] always make the biggest intellectual effort."
Listen to and download the first episode of Chanel's Métier Class podcast below. Upcoming interviews include Bruno Pavlovsky, President of CHANEL Fashion, Amanda Harlech, consultant and the house's ambassador: Pharrell Williams, whose episode will premiere on March 23.
Most recently, Pharrell teased his upcoming Chanel collaboration.
Click here to view full gallery at HYPEBEAST