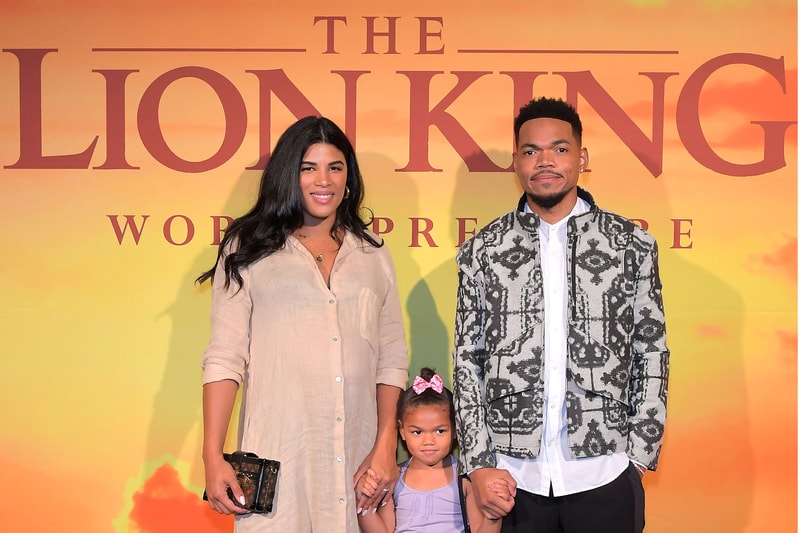 With only a few more days left to go before Disney's live-action adaptation of The Lion King hits theaters next week, it's a wonder that Chance The Rapper's involvement in the film until now has been kept tight-lipped.
During the film's premiere on Tuesday night, which was held in Los Angeles, Chance revealed he plays a small role in the revamped 1994 classic to which he also thanked Donald Glover for helping him. In a few photos shared to his IG account, Chance can be seen attending the event with his family in tow. One even showcases him and his daughter posing with Beyoncé and Blue Ivy. In the caption, Chano explained how his involvement in The Lion King has impacted his life.
"I grew up my whole life obsessed with all things related to #TheLionKing; like all three films, the Timon and Pumbaa tv show, the broadway play and especially the broadway soundtrack," he wrote. "Needless to say the original film was immensely impactful on my music and overall life. So when my big bro [Donald Glover] got casted as Simba, he did the coolest thing ever and told director Jon Favreau to call me in as a consultant to keep the original flavor."
His consulting on the film helped him to land a role alongside the all-star cast. "One day I'm there Jon asked me to do some singing stuff, another day he asks me to do some lines," he wrote. "Its all a blur, but I'll tell u its one of the best blurs of my whole life. I am so blessed to know people like Donald and Jon man. AMAZING FILM, AMAZING CAST AND AN AMAZING NIGGHT LAST NIGHT. GOD BLESS AND LONG LIVE THE KING."
Chance is playing the part of Bush Baby. The Lion King arrives July 18. Critics have so far been praising the remake.
Click here to view full gallery at HYPEBEAST