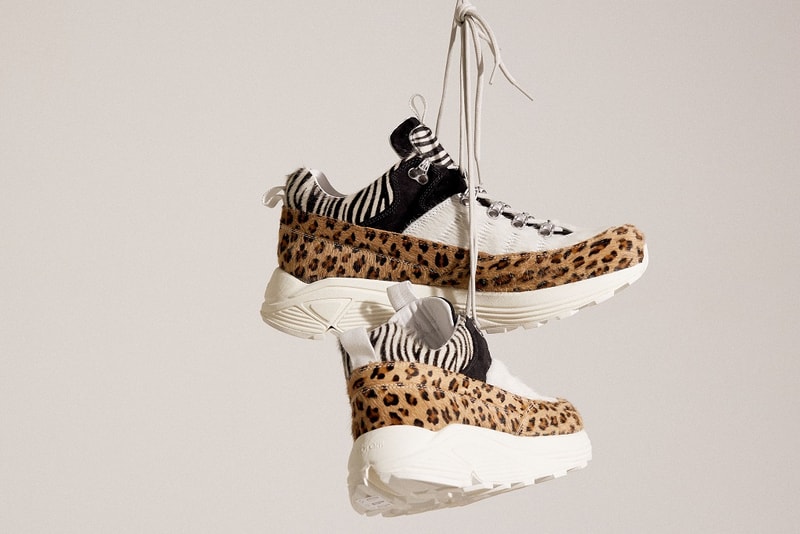 To close out the brand's 2018 run, Caliroots linked up with Chinatown Market for a range of glow-in-the-dark smiley gear, which revolved around a special white t-shirt with black detailing and a "smiling" basketball. Now, for one of Caliroots' first major drops of 2019, the Stockholm-based outfit is teaming up with Italy's Diemme for a vibrant new take on the Monte Grappa silhouette.
Labeled as the Monte Grappa "Different Animal," Caliroots and Diemme's new collaborative offering is billed as the former company's "wildest collab" yet and a blend of striking luxury and irreverent style, as well as a celebration of Caliroots' "wild at heart mentality, no f*cks given attitude" and forward-thinking approach to streetwear. Taking their inspirational cues from Caliroots' previous animal-print designs, the designers behind the Monte Grappa "Different Animal" chose to employ the same styling for this sneaker, serving up streaks of leopard and zebra print across its exterior. Notably, this latest drop also serves as Caliroots and Diemme's fifth collaboration together.
Crafted in Italy, Caliroots and Diemme's Monte Grappa "Different Animal" sneaker was put together using 100% calf hair for the upper — which was sourced from the renowned Italian tannery Vicenza Pelli — and 100% cow leather for the lining and detailing. For the bottom, the manufacturers used the Vibram Rolling Gait System, a technology that was created "specifically for maximum comfort and reduced muscle fatigue."
You can take a look at Caliroots and Diemme's Monte Grappa "Different Animal" collaboration above, while the sneaker itself is scheduled to hit the shelves of Caliroots Stockholm and Caliroots' official website on Wednesday, March 6 at 11 CET.
For more, check out Tres Bien and Diemme's Trebbio Vet Hiking Boot from last fall.
Click here to view full gallery at HYPEBEAST