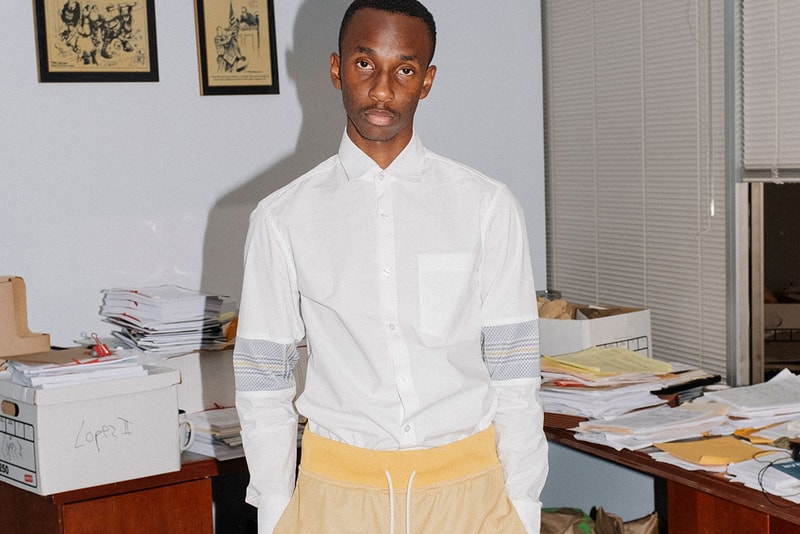 Bristol Studio creative director Luke Tadashi opposes the typical associations that come with formal suiting and dress shoes versus that of sportswear and sneakers. His latest capsule collection, appropriately-dubbed "Business-Casual," seeks to challenge those traditional notions. "Why does a suit garner respect while something 'casual' doesn't command the same attention," Tadashi questioned.
Within the assortment, the brand introduces its first official basketball shorts through three reversible options, along with matching dress shirts that showcase a new perspective on "power" dressing. Patterns like plaids and pinstripes are featured in a primary palette of red, yellow and blue, referencing the subtle prints and approachable colors that are usually found on professional attire. Other pieces in the range include a selection of dress socks in grey or black, as well as a branded basketball that is printed with definitions of "ball" and "sculpture" to show how the item can also function as art.
"Growing up I practically lived in basketball shorts. Even if I wore jeans – which was about as 'dressy' as I would get – there were basketball shorts underneath," said Tadashi.
"I remember wearing Air Force 1s with a suit to my 8th grade graduation and everyone almost taking offense that I wasn't in dress shoes – it was like my choice of sneakers disrespected the momentous occasion or something. From then on, I always thought about the deeper meaning that certain garments carried. I always felt sportswear was just as respectable and should command the same appreciation – if not more – than a nice suit or dress shirt. By creating a sportswear capsule inspired by formal attire, I felt it was a way to transfer that power onto garments that I actually wear."
Bristol Studio's "Business-Casual" collection launches today, July 26, at 12 p.m. EST exclusively on the brand's webstore.
For more in fashion, catch up on the label's Spring/Summer 2019 collection, which pays homage to Venice Beach basketball culture.
Click here to view full gallery at HYPEBEAST