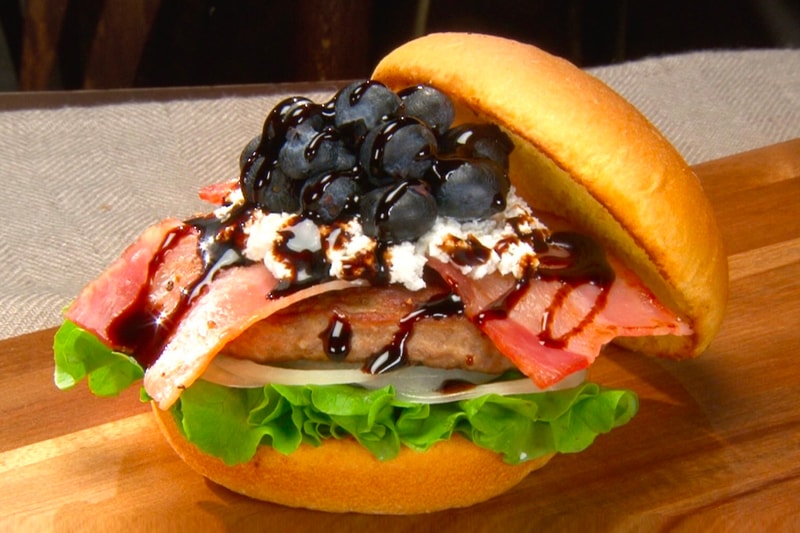 Shortly after learning about Chocolate Ramen, we are now receiving news about the arrival of Blueberry Cheese Burgers in Japan.
According to reports, the unique item is available now at Japan's Freshness Burger fast-food chain. The sweet and savory burger features a bed of onions and lettuce stacked with two slices of bacon and a beef patty, which is then finished off with stewed blueberries and ricotta. Apparently, this isn't the first time Freshness Burger has topped its burgers with fruit. Last year, the chain released both a Peach Burger and a Mango Burger.
Freshness Burger will be serving Blueberry Cheese Burger until February 28.
For more food news, HI-CHEW releases a Superfruit Mix filled with exotic Japanese flavors.
ミーハーなのでフレッシュネスバーガーのブルーベリーチーズバーガー早速食べました pic.twitter.com/Wk96oKWXtc

— どこかのだれか (@darekasaaaan) February 6, 2019
早めのお昼ごは~ん❤️
昨夜のダレトクを見て(笑)
今日から期間限定で販売の
ブルーベリーチーズバーガー?

美味しい???
没メニューだったのにねー#フレッシュネスバーガー pic.twitter.com/YeLHG2ppWs

— ひな♪ (@uranai_BBA) February 6, 2019
Click here to view full gallery at HYPEBEAST
Source: HYPEBEAST