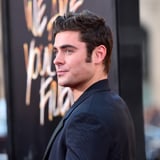 To be frank, Zac Efron's been making me weak in the knees since his High School Musical days. But lately, he's been looking hotter than ever, thanks to a few grooming changes. Last year, the 31-year-old actor sprouted a scruffy beard that renewed my love for facial hair, and now it looks like he's kicking off 2019 by going platinum blond. New year, new hair, am I right?
On Jan. 9, Efron shared a quick peek at his bleached hairstyle while posting a rock-climbing photo on Instagram. In the snap, a few wisps of his lightened hair poke out from under a black beanie while he grips to a wall and shows off his bulging triceps (deltoids? biceps? I don't know much about muscles, OK.).
This isn't the first time the natural brunette has dyed his hair. Back in 2016, he had blond highlights while filming Baywatch, though he was back to brown come 2018. Here's to hoping Efron shares more photos of his new platinum hair and beard in the very near future.
Source: POPSUGAR Beauty