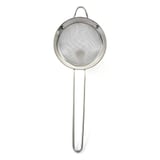 I tried cleaning my makeup brushes with my $5 food strainer, and the results were unexpected. Houston-based makeup artist @stellarmakeupartistry posted the below video of her cleansing her brushes with the kitchen tool with the caption: "I couldn't find one of them rubber thingys to wash my brushes. So when i was in line at @marshalls i got desperate and grabbed this lil strainer💡 and it worked amazing!"
After seeing how simple her hack was, I had to put it to the test. I chose the brushes I used the most – a small blending brush that I use to get powder highlighter under my brow bone, Sigma Beauty High Cheekbone Highlighter Brush ($20), and Sigma Beauty Flat Kabuki Makeup Brush ($25), which I use to apply my liquid foundation and BB Cream – to put the hack to the test.
I ran each brush under my running faucet, dipped them in my usual makeup brush cleansing liquid (a mixture of olive oil and dish soap), and swirled the brush around in the strainer the way Stellar had in her video. I swished the fibers around for about three to five seconds before rinsing, checking to see if there was still glitter and flesh-toned liquid caked in them.
For the brushes that were doused in my powder makeup, it only took a few seconds to get them completely clean. For the Flat Kabuki, I noticed that its fibers didn't want to let go of the caked-on liquid bases, so I spent a full five minutes swirling and wringing out the fibers.
Ultimately, Stellar's trick worked, but it's important to note that different textures will cling on for longer and may require a little more moxie. See our test of the viral hack ahead.
Source: POPSUGAR Beauty