In a city with significant African influence, three Afro-Brazilian designers are shaping the conversation on fashion as Black expression.
When it comes to the fashion scene in Brazil, chances are most people will picture Victoria's Secret Angels like Adriana Lima, Alessandra Ambrosio and Gisele Bündchen. This might then lead to the belief that most Brazilians look like the models whose beauty aligns perfectly within Eurocentric standards. The reality, though, is that outside of Africa, Brazil has the largest number of African descendants, with more than 50 percent of the country's population identifying as Black or Brown. 
In the Brazilian city of Salvador, in the Northeastern state of Bahia, more than 90 percent of the population identifies as Black or Brown, and it's a city whose cultural fabric is embedded with West African influence. There is food from Ghana, music from Nigeria and fashion from Senegal. The latter is intrinsically linked to how Afro-Brazilians affirm their heritage, and there is a thriving Afro-Brazilian fashion industry that continues to exist in the midst of erasure, appropriation and imitation.
There is no exact definition for what Afro-Brazilian fashion is, but there is a clear understanding that it's a mode of expression rooted in an eclectic use of styles, prints and fabrics from African countries, along with additions that are distinct to Black people in Brazil. This amalgamation of a variety of cultural aesthetics is a testament to the cultural influences that have shaped Black life in Brazil, specifically after the end of the Portuguese slave trade era.
Renato Carneiro, a fashion designer originally from São Paulo, has been based in Salvador for more than a decade; his career has been about creating spaces for accessible and one-of-a-kind Afro-Brazilian fashion designs. With two stores — Katuka Africanidades and Mercado Negro — located in the historical city center of Pelourinho, he is one of few Afro-Brazilians who own their own shops in in the areas. (Many have been forced out due to gentrification as the center has undergone remodeling to suit the taste and wealth of visiting tourists.) Katuka Africanidades, in particular, is a striking three-story building, painted an earthy, almost burnished clay red. It's located on a street corner with a stunning view of the Atlantic Ocean to the left.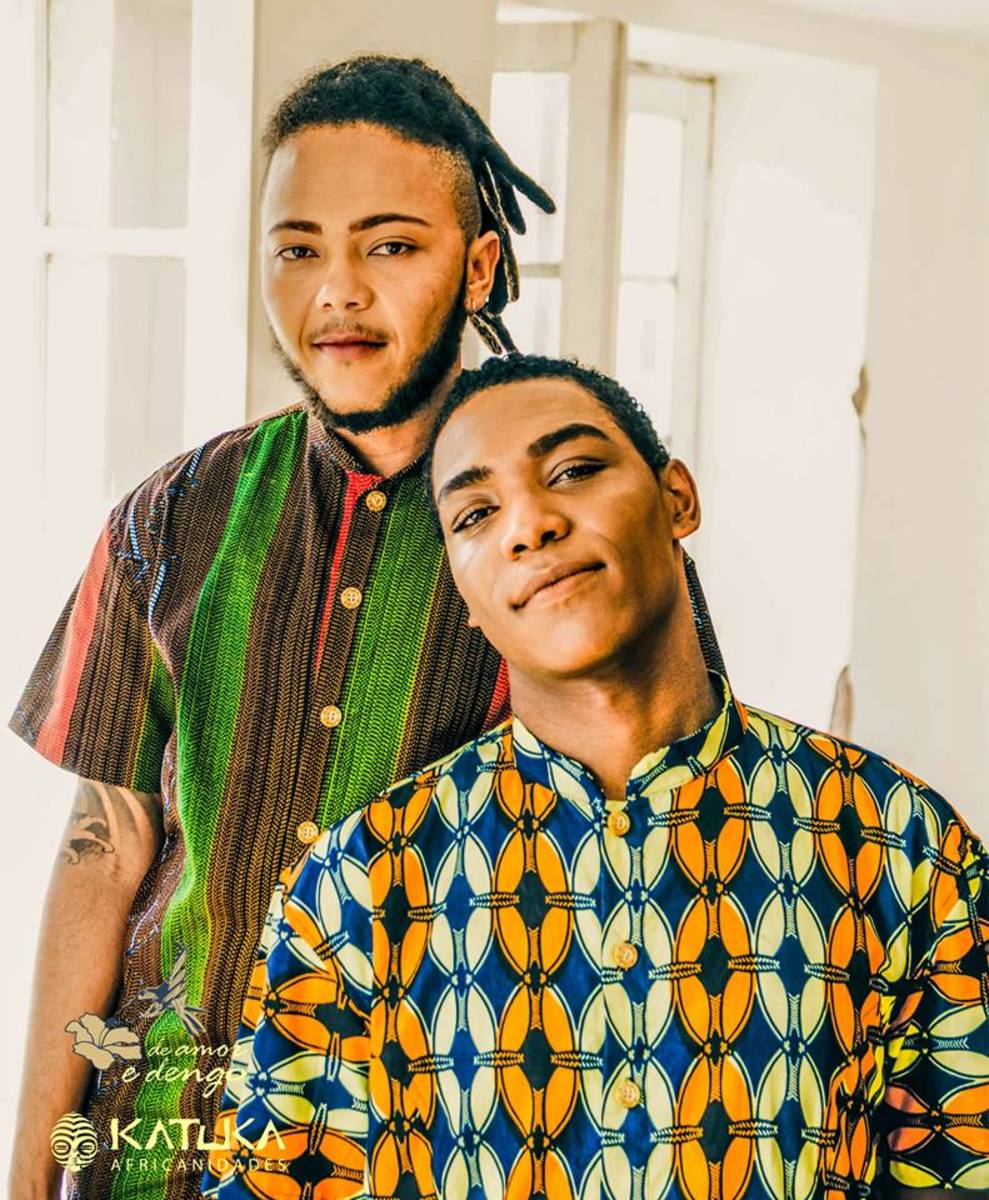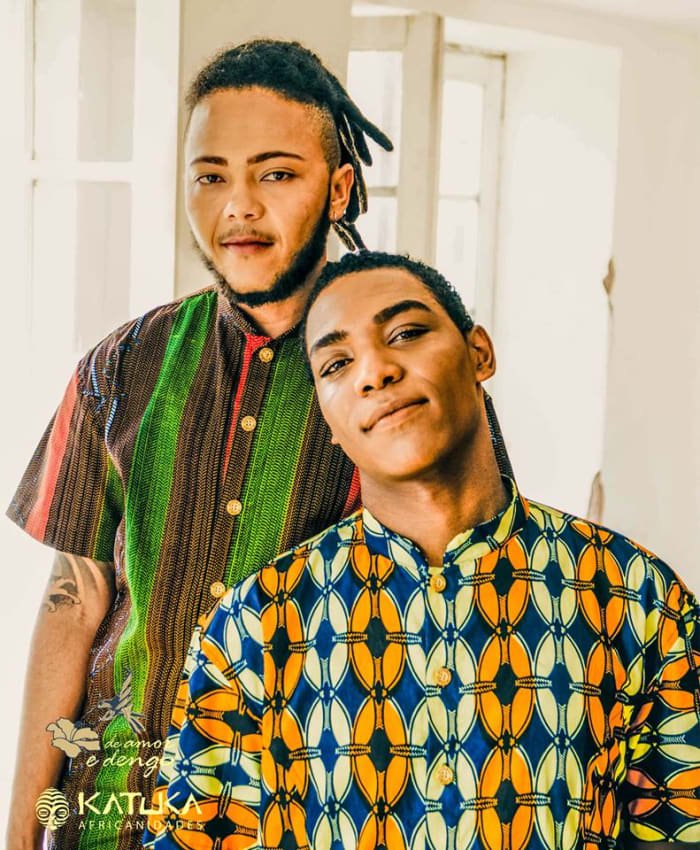 Carneiro's vision has always encompassed something greater than clothing. "The idea was to create a space where we offered different products that were African-centered — from literature to fashion, to pieces of art and materials used during religious ceremonies," he says. Katuka Africanidades caters to those looking for striking additions to their closets and jewelry cabinets, while Mercado Negro houses accessories used in Candomblé, an Afro-Brazilian religion, with different deities linked to the natural elements in the universe. "I wanted to create a place that affirmed the plurality of all our lives when it comes to things like identity and sexuality. A place that focused on the heritage of Afro-Brazilians, people in the diaspora and in Africa."
His clothing is very much inspired by the vibrant and sweeping fabrics worn by African women in Nigeria, Senegal and Benin, and he sources his material directly from the African continent. "I make my clothes for the Black people who want to reclaim their connection to their African heritage."
Over the years, Afro-Brazilian fashion has become increasingly popular in Brazil, but the most well-known protagonists for what's either a trend or a permanent shift in consumption are not Afro-Brazilians. Rather, it's mostly white designers who are claiming Afro-Brazilian fashion as something that makes the politics of race non-existent, and their inspiration renders inequality obsolete.
São Paulo Fashion Week (SPFW) is the largest fashion event in the country, and is considered the fifth largest in the world behind New York, London, Milan and Paris. As a relatively young fashion week (it's less than 25 years old), SPFW may already be a global player, but it's also another public event that doesn't showcase work from designers who reflect the reality that the world is not all white.
Last year, Brazilian rapper and designer Evandro Fióti was denied entry into SPFW by security on the day his brand was set to be launched at the show; one can surmise that this was because security didn't think he belonged. Commenting on the experience a few days later, Paulo Borges, founder of SPFW said, "When I got the call that this happened, I said no, that is impossible. I called Fióti to understand how and where it happened. When we talked, we realized this is a question about structures in Brazil and these kind of situations need to be revealed and addressed." Borges continued by mentioning that his son was Black (Borges is white) and that, "It's important to work together against this type of preconceived notions."
At that same event, designer Liliane Rebehy — a white Brazilian from the state of Minas Gerais, known for its colonial-era towns — was also displaying her collection; prior to its release, the line had already been accused of cultural appropriation. Twenty-five models walked the runway in clothing visibly inspired by pieces worn in the religious ceremonies of the Bijago people from Guinea Bissau. Out of those 25 models, just three were Black. When asked to comment on the claims of appropriation in an interview, Rebehy said, "That doesn't exist. In my opinion, appropriation means copying. These weren't copies."
This is the rock-and-hard-place that most Afro-Brazilian designers find themselves trapped between. On one side, they are denied entry and on the other, they work alongside peers who refuse to acknowledge the validity of white privilege and the adverse effects of appropriation on Black and Brown communities.
SPFW is a bi-annual event, and in April of this year, 29 fashion houses participated — only two of them had Black designers. During the October iteration of the show, 31 fashion houses took part and again, just two Black designers were involved.
Late last month, Carneiro was invited to attend a talk that featured Borges, speaking on the changes SPFW has initiated thus far. Carneiro was one of four designers from Salvador whose work was chosen as part of a fashion editorial highlighting designers in different regions around the country. No Black female designers were invited, although the city is home to two of the most well-recognized designers in the country who focus on Afro-Brazilian fashion: Goya Lopes, who has been designing clothing for more than 30 years, and Carol Barreto, designing for almost two decades. When it comes to their talent, both have accomplishments that speak for themselves: Barreto became the first Afro-Brazilian to show at Black Fashion Week in Paris, while Lopes has shown her work at both Columbia College's African Heritage Celebration in Chicago and the Axé Bahia Exposition at UCLA's Fowler Museum. Yet, they have never received invitations to show their work at São Paulo Fashion Week.
Barreto is also an activist, columnist for RAÇA Magazine and a professor of gender studies and feminism at the Federal University of Bahia. "My work as an artist and researcher deals with the relationship between fashion, feminism and anti-racist activism," she says. Born and raised in Salvador, Barreto finds her principal inspiration in the Black women she grew up seeing. "Unfortunately for Black people in the diaspora, during slavery, we lost so much knowledge regarding the aesthetics of our culture and the beauty of our own appearance. That lost knowledge is what I want to reconstruct through the fashion I create."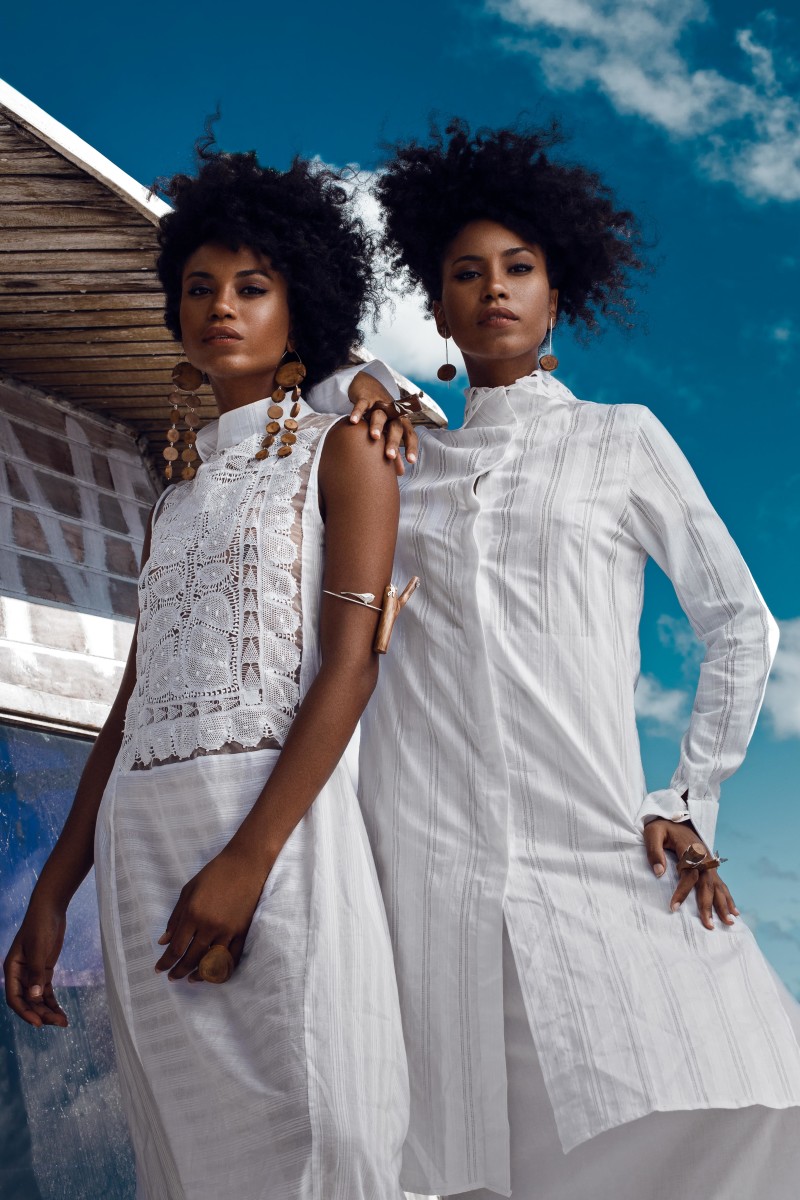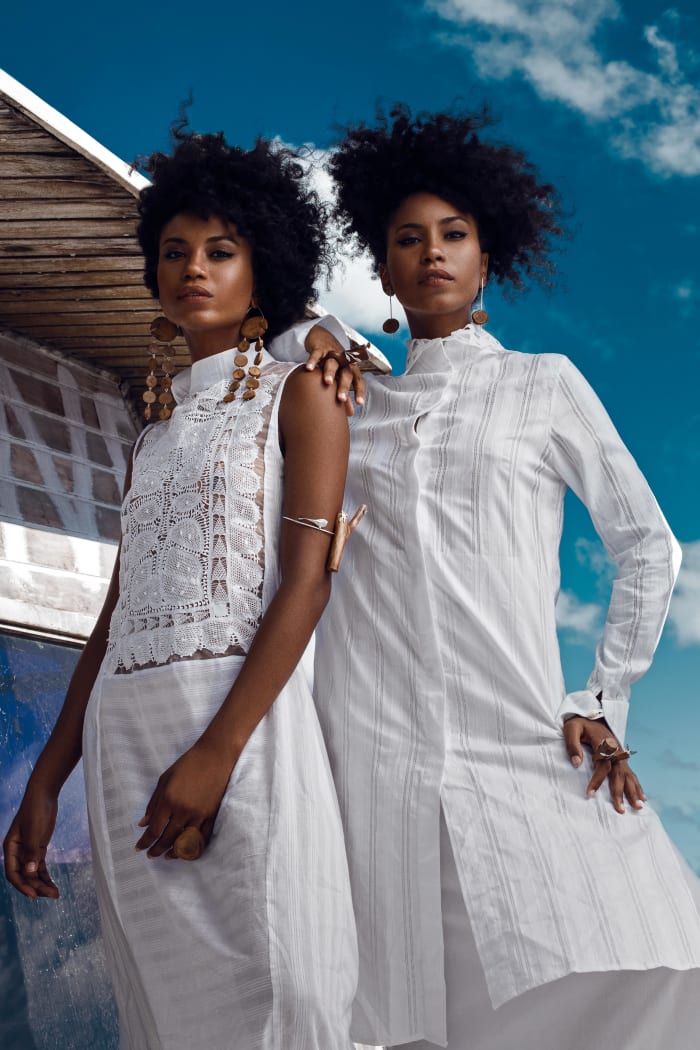 Lopes's professional resumé is as long as those of Barreto and Carneiro put together, and during her early days, there were so few people in fashion who looked like her. "When I first started, no one was interested in Afro-Brazilian fashion outside of the Afro-Brazilian bands in Carnival and the people who take part in the religious ceremonies of Candomblé. It wasn't even called Afro-Brazilian fashion, but Afro or Afro-Bahia because it was specifically attached to Black people in Bahia and the African influences here."
Lopes studied lithography at the International University of Art in Italy, and when she came back to Salvador, she started creating her specific brand, built around recreating the varied dimensions of Black life on fabric. The dresses, shirts and bags hanging in her naturally lit store are printed with art ranging from the facial outlines of Zulu and Masai women in their cultural attire, Black people doing capoeira, Black women carrying their children on their backs and Black people dancing at festivals. They are simple, but effective statements on the beauty of Blackness. "There is a space for Afro-Brazilian designers in Brazil's fashion industry," says Lopes. "In the last 15 years, things have happened to increase the number of Black designers."
During those last 15 years, the Brazilian government was unlike the one that exists today. The years of President Luiz Inácio Lula da Silva — or "Lula," as he's known by Brazilians — and his successor Dilma Rousseff are largely regarded as times of elevation for Afro-Brazilians. Universities became more inclusive, while education, along with healthcare, was more accessible. But fashion has always seemed able to exist in a world of its own, inspired, but unencumbered, by the changes happening around. It's able to exist and profit from those who still remain marginalized while appearing to serve all people.
"There is so much cultural appropriation in Brazil. So many brands that are led by only white people and market to white people appropriate elements of Afro-Brazilian designs. And they will only call white models to show that work," says Barreto. Almost a decade ago, back in 2009, a quota was set in place to guarantee that at least 10 percent of the models on the SPFW runways would be Black or Indigenous. Up until this point (and after), white models were the norm — and when it comes to the designers highlighted at SPFW, the reality remains as sobering. "Our aesthetics are used, but not our bodies, and when they use them, they call it 'ethnic fashion,'" continues Barreto.
Afro-Brazilian fashion exists as something that was creatively put together to express the lives of those who had been taken from everywhere and ended up somewhere together. One thing was created to uphold the collective beauty of their shared Blackness and it is this that Afro-Brazilian designers like Barreto, Lopes and Carneiro have dedicated their lives to representing. It's a commitment rooted in a deep respect and appreciation, and that is something that can never be imitated.
Homepage photo: Models Suzana and Suzane Massena wearing Carol Barreto's designs. Photo: Edgar Azvedo and Rafael Zu/Courtesy of Carol Barreto
Sign up for our daily newsletter and get the latest industry news in your inbox every day. 
Source: Fashionista