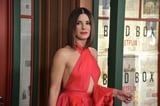 Sandra Bullock is closing out her whirlwind year with a haircut. In recent years, the actress has kept her hair in long beachy waves, and after cutting her hair into a lob earlier last month, she recently cut it even shorter. Bullock spoke about the change in an interview promoting her forthcoming Netflix thriller Bird Box on Today.
"My life is changing so fast," Bullock said in response to Hoda Kotb's remark that a hair change often mirrors another significant change in one's life. Bullock said, "It's funny. I feel like my hair was there to help me hide. I hide behind my hair." Adding, "When I did cut it, I went, 'Oh, OK, that's me. I can be this person now.' It's all about the hair."
The admission is not only refreshing and relatable, but also one you don't always hear from celebrities. Watch the interview ahead, and then browse a few pictures of Bullock's new haircut – which looks pretty damn fab, by the way.
Source: POPSUGAR Beauty