Over the final 12 days of 2018, each day we will look back at the year that was for a WNBA team, reminiscing over some of the best moments from the past year and looking ahead to the upcoming year as well. Up next is the Los Angeles Sparks, who experienced some ups and downs as they tried to make it back to the Finals for the third straight season but ultimately fell short.
Season Recap
Record: 19-15, seven-win dropoff from 2017
Finish: 3rd in Western Conference, 6th overall
Postseason: Eliminated in second round by Washington
Awards: Alana Beard, Defensive Player of the Year, All-Defensive First Team; Candace Parker, All-WNBA Second Team; Nneka Ogwumike, All-Defensive Second Team, WNBA Cares Community Assist Award
Leaders: Points (Candace Parker, 17.9); Rebounds (Parker, 8.2); Assists (Chelsea Gray, 5.1); Steals (Ogwumike, 1.6); Blocks (Parker, 1.1); 3-Pointers (Riquna Williams, 1.5)
Key Offseason Questions
How will key changes in leadership roles affect the team on the court?
After a strong four-year run that saw a pair of Finals appearances and a championship, Brian Agler resigned as head coach of the Sparks in November and has been replaced by former NBA player and coach Derek Fisher.
In addition to move at head coach, the Sparks also announced last week that Team President & COO Christine Simmons was stepping down to take on a similar role with the Academy of Motion Picture Arts & Sciences, effective Jan. 11, 2019.
With new voices in such important roles, it will be interesting to see how it impacts the roster and the play on the court. The Sparks have a talented roster in place but with the draft and free agency ahead, will there be any significant moves to come before the season tips off in May?
Best On-Court Moment
Chelsea Gray Buzzer Beater vs Minnesota on Opening Day
The Sparks opened the season in Minnesota in a rematch of the 2016 and 2017 Finals with the Lynx. It was another tightly contested game between the rivals that came down to a single play in the closing seconds. And just as she did to the Lynx in Game 1 of the 2017 Finals, Chelsea Gray hit the game-winning shot to give the Sparks the 77-76 win.
Team Parker Gets All-Star Win In New Format
The 2018 WNBA All-Star Game debuted a new format with team captains choosing their own teams. L.A.'s Candace Parker captained one team against a squad led by Elena Delle Donne. When it came to choosing players, Parker made sure her Sparks teammates Nneka Ogwumike and Chelsea Gray were on her squad. While Nneka was unable to play due to illness, Parker (11 points, 5 rebounds) and Gray (5 points, 5 rebounds) helped lead Team Parker to a 119-112 win.
Defensive Effort Rewarded
The Sparks were one of the league's top defensive teams all season long as they allowed opponents to average a league-low 77.0 points per game and finished with the second-best defensive rating at 98.7 points per 100 possessions. L.A.'s defensive efforts were rewarded at the end of the season with Alana Beard winning her second straight Defensive Player of the Year award and leading the All-Defensive First Team, while Nneka Ogwumike was named to the Second Team.
Candace Parker Hits A Pair of Milestones
During the 2018 season, Candace Parker became the 20th player in WNBA history to reach 5,000 career points and the 12th player to reach 2,500 rebounds. Only nine players have reach both milestones in their career as Parker joined some elite company: Tamika Catchings, Lisa Leslie, Tina Thompson, Taj McWilliams-Franklin, Tina Charles, Candice Dupree, DeLisha Milton-Jones and Swin Cash.
Parker is one of only three active players on the list (Charles and Dupree), but one of four that has represented the Sparks (Leslie, Thompson and Milton-Jones).
Best Off-Court Moment
Nneka Ogwumike Recognized For Community Work
Ogwumike earned the Seasonlong WNBA Community Assist Award presented by State Farm in recognition of her dedication to community outreach. Throughout the 2018 WNBA season, Ogwumike led or participated in events that focused on female empowerment, health and wellness, diversity and inclusion, homelessness and STEM education.
"I've been blessed with a platform to impact my community and those who look up to what I do," said Ogwumike. "I hope that my passion for culture, education and women's empowerment reaches the hearts and minds of young aspirers and helps them accomplish goals, achieve dreams and cultivate future generations of brilliance."
Candace Parker Joins Turner Sports
When she's not dominating the game while she's on the court, Candace Parker will now break down the game off the court as she joined Turner Sports as an analyst and commentator for the NBA on TNT and NBA TV throughout the season.
Parker is part of the Players Only franchise, which offers viewers unique insights into the game directly from the athlete's perspective. She also regularly provides analysis on NBA TV's GameTime, the network's flagship studio show.
Plus she's still getting some shots up while she's on the set … albeit in different shoes.
GIF of the Year
The Sparks gave us plenty of on-court celebrations and sideline reactions to choose from for GIF of the year. There was also Candace Parker showing off her juggling skills, but we had to go with Essence Carson breaking out the dance moves in the huddle prior to tip off.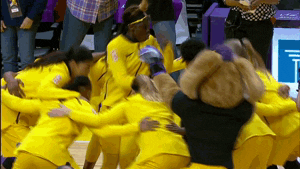 New Year's Resolution
While the Sparks have had some changes to their leadership this offseason, the expectations for the upcoming season remain the same: compete for a championship. Over the past three seasons, the Sparks have gone 71-31, made it the WNBA Finals twice and won a championship in 2016. Even though L.A. fell short of making their third straight Finals appearance last season, their championship window remains open with a talented roster led by a pair of MVPs.
Source: "Los Angeles" – Google News