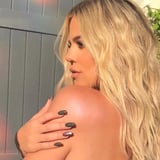 Khloé Kardashian's hyperglowy, smooth complexion takes work.
During a recent interview for her new Becca BFF collection, we asked the TV star for her best beauty tip and we got served some realness. "My best beauty tip is not in regards to makeup," Kardashian said to POPSUGAR. "Mine has always been moisturize, moisturize, moisturize – but never forget the neck because your neck tells your age, honey."
Her routine consists of a ton of oils on every part of her body. "I am a f*ckin' slip and slide at night," Kardashian said. "I put [on] vitamin E oil or Bio-Oil or any type of oil I love. I put it on from my forehead, all the way down, and even in between my breasts. I will do it at night, that's just what I do everywhere, and I love it. I don't think my boyfriend [Tristan Thompson] loves it, because I look crazy."
Now excuse us as we slather ourselves in body oil.
Source: POPSUGAR Beauty