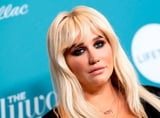 In 2019, you might have committed to a few beauty resolutions. Turns out, you're not the only one, celebrities have them too. One particular star with a beauty resolution that might inspire you (because it's never too late in the year to start one) is Kesha. The "Here Comes the Change" singer posted a bare-faced selfie on Instagram captioned: "this year my resolution is to love myself… just as I am, all f***ed up and imperfect and whatever else. And to let my freckles liiiiiiiive 🛸🛸💃🏼💃🏼💅🏻💅🏻💅🏻".
Fans in the comments were celebratory of Kesha's photo saying, "Being yourself. Courageous & beautiful!", and also agreeing that they, too, love their freckles: "yessss our freckles are wonderful and I'm so glad our world is realizing this!" Kesha isn't the first celebrity to show off her natural beauty, last year many celebrities decided to embrace their freckles, including Christina Aguilera, Kylie Jenner, and Perrie Edwards, and of course Meghan Markle which no doubt inspired others to do the same.
So turn on Kesha's power ballad on repeat and let her give you a little lesson in self love.
Source: POPSUGAR Beauty