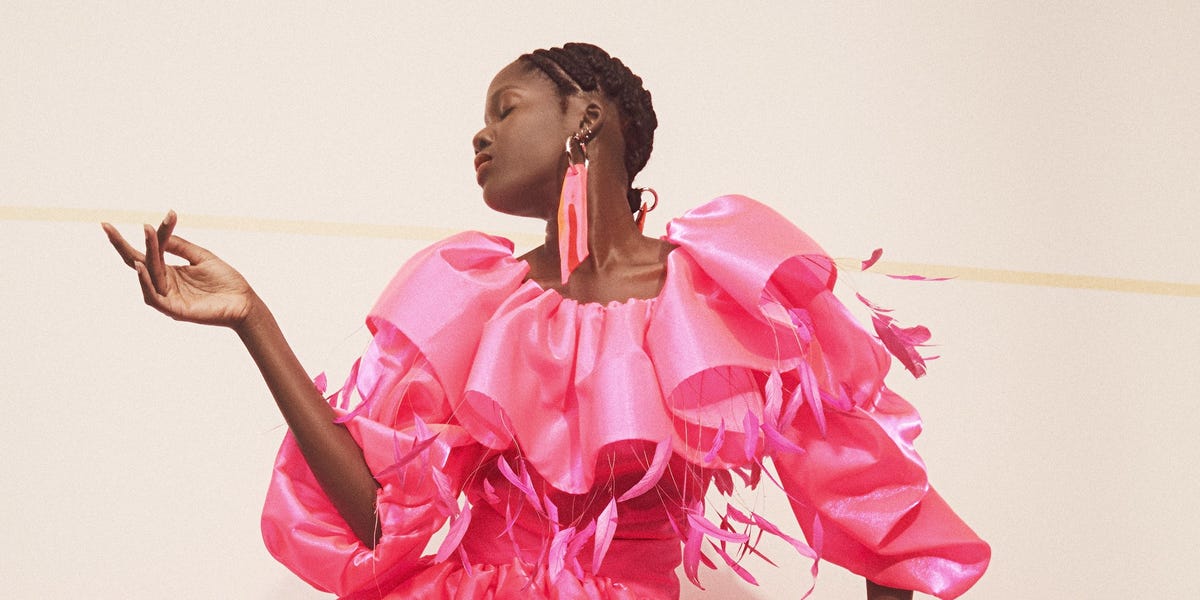 For decades, mining archival images of, say, Jackie O in Capri could provide sufficient creative fodder for a compelling ready-to-wear collection. But these days, and this season in particular, many burgeoning designers favor a far more personal approach, rooted in individual heritage. For his debut spring 2019 show in New York, Baton Rouge native and SCAD graduate Christopher John Rogers aimed for "a Southern 'Sunday best' moment" and drew upon his childhood memories of church fashion. "My grandmother always wore a green suit with a green pump, hat, and bag," Rogers says, noting the effort required to match perfectly. "With monochrome dressing, you really have to pay attention to the cut of things."
Spring 2019 looks from Christopher John Rogers (christopherjohnrogers.com)
Revivethecool
Before he was aware that fashion design was a viable career option, Rogers experimented with garbage bags, creating folds on a dress form as he tried to decipher the construction process. ("Little did I know at the time that those folds were called darts," the now 25-year-old says, laughing.) Shoe-string budget be damned, Rogers brought his first collection to life using bargain-basement dead-stock fabrics that he whipped up into bicolored suits and voluminous eveningwear confections. Exaggerated hats from Brooklyn-based milliner Malchijah Hats made the Southern gospel aesthetic sing.
In London, a melting pot of references informed the work of Supriya Lele, who charmed buyers and editors with her artful blending of British and Indian staples for spring. (In just its second season, her work is already sold at Browns and Opening Ceremony.) Trench coats deftly draped with saris represented the identity struggles that Lele experienced growing up as the child of Indian immigrants in the West Midlands.
Supriya Lele (supriyalele.com).
Stuart Wilson/BFC
Meanwhile, Chinese-Vietnamese designer A Sai Ta of Asai toyed with outerwear by cropping overcoats into Mao-inspired silhouettes and offered a tongue-in-cheek nod to tourists with Burberry-esque plaid, hanfu-inspired blouses.
Asai (asaita.co.uk).
Tristan Fewings/BFC
Asai (asaita.co.uk).
Ian Gavan/BFC
Ta's Mandarin collars and traditional cheongsam shapes (broken down into armorlike segments) were offset by of-the-moment fluorescent tie-dye treatments. And dinner-plate dragon prints were as suited to floaty ensembles as they are to the usual Ming porcelain. When considered collectively, these up-and-comers' inspirations cast new light on the well-worn concept of personal style. To be fashion forward, one must look back.
This article originally appeared in the January 2019 issue of ELLE.
Source: Fashion – ELLE