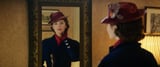 It took two old-fashioned styling techniques and one scary-looking hot tool to transform Emily Blunt into Mary Poppins.
To create Blunt's loose curls, Oscar-winning makeup and hair designer Peter Swords King said he did finger waves "like they did in the '30s." Finger waves originated in the 1920s, and King re-created the look by pushing waves into Blunt's hair with his fingers, using clips to secure them in place, then drying each section. Next, he employed his second technique: pin curling (which entails looping hair into a ring, securing it with clips, and drying the area) around the back of Blunt's hard to create the ringlets.
Lastly, King used this tool to create more curls.
This plier-like metal device is a set of marcel tongs (the above set of Marcel Tongs ($9) is available on Etsy), a hot tool that was widely used in the late 1800s to early 1900s and the earliest iteration of the marcel curling iron. "[They] are very old-fashioned metal tongs that you have to put on an oven to heat up," said King. He used these to curl Blunt's hair, as well as that of other cast members.
King felt strongly about authenticity for this film and picked bits and pieces of over 100 hairstyles from the 1930s when imagining Blunt's look. His desire to bring the audience to the decade also showed in how he insisted on employing the methods that he did. "You can't re-create any period unless you did what they did in that period," he said.
Ahead, see Emily Blunt as Mary Poppins and King's vision come to life.
Source: POPSUGAR Beauty