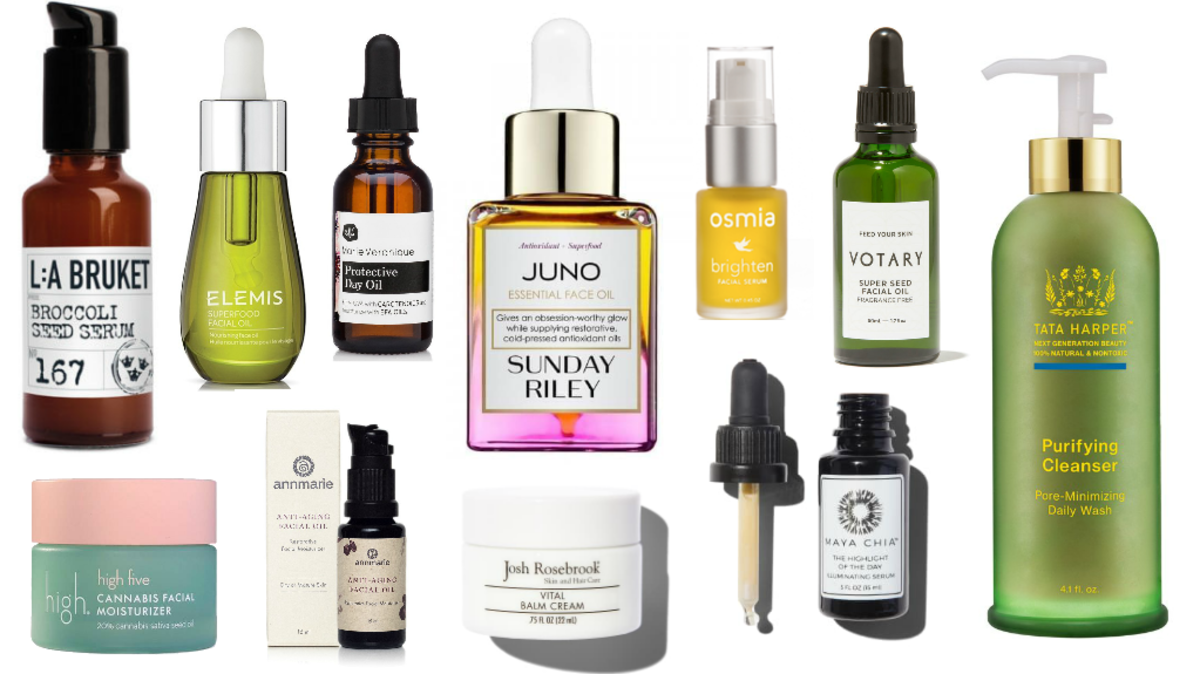 Welcome to our series "Buzzy Beauty Ingredient of the Moment," the premise of which is pretty self-explanatory: In each installment, we'll explore an ingredient that's currently trending in the industry, springing up in a variety of different products lining the beauty aisle. We'll consult experts to find out about the science behind it — and why it's having a major moment right now.
These days, it's not uncommon for the back of a bottle of all-natural face oil to read more like a really healthy stir-fry recipe. Throw together a dash of cucumber water, a pinch of spinach extract, a heaping helping of hemp seeds and top it all off with a drizzle of avocado oil and you've got… a trendy skin-care concoction worthy of a $100 price tag and a feature on Goop. The latest buzzy superfood to add to your feast — er, face? Broccoli seed oil. With antioxidants, collagen-boosting benefits and the potential to prevent skin cancer (seriously), this is one veggie you'll never avoid again.
"Broccoli seed oil is an extract from the broccoli seed, which gives rise to broccoli sprouts and the broccoli florets we are used to on our dinner table," says Dr. Joshua Zeichner, a dermatologist at Zeichner Dermatology in New York City. "The seed itself is not edible, but its oil is rich in calming antioxidants, like vitamin A."
As an antioxidant, vitamin A shields the skin from the effects of environmental pollution by neutralizing free radicals (the name given to pollution particles created by industrial emissions, plastics and more). Free radicals can harm skin cells in ways large and small, from stealing moisture to causing pimples, age spots and wrinkles; but by slathering on a layer of broccoli seed oil, you can mitigate the risk of pollution damage.
You may also recognize vitamin A as the powerhouse nutrient behind some of the most celebrated anti-aging and anti-acne products on the market, including retinol (a derivative of vitamin A widely prescribed by dermatologists to improve fine lines) and Accutane (a somewhat controversial but powerful prescription acne medication). Whereas chemically derived vitamin A has a reputation for being irritating, the natural version in broccoli seed oil is anything but. In fact, Dr. Aanand Geria of Geria Dermatology in New Jersey speculates that the ingredient delivers many of the benefits of a topical retinol cream — like accelerated cell turnover for fresh, glowing skin — minus the irritation.
"Broccoli seed oil is also high in skin soothing fatty acids," Dr. Zeichner notes, citing the impressive Omega-6 and Omega-9 content of BSO. These nutrients deliver intense hydration without clogging pores, while also calming inflammatory skin conditions like acne, eczema and even rosacea.
Thanks to a whopping 62.5 percent Omega-9 content, broccoli seed oil is easily absorbed into the skin and is often used as a natural silicone substitute in skin-care formulations. (While silicones do seal in moisture, they've been shown to seal in everything else, as well… including dirt, sweat and bacteria.) 
But here's where broccoli seed oil really shines: Studies show that it has the potential to prevent skin cancer. "Broccoli seed oil contains sulfurophane, a compound which mobilizes cellular defenses that protect the skin against UV damage," says Marie Veronique Nadeau, the founder of Marie Veronique skin care. And even though it's decidedly not a substitute for proper sunscreen, science confirms that broccoli seed oil does significantly reduce cell damage caused by the sun — this study from 2007 showed that skin exposed to UV rays experiences 37 percent less cancer-causing cell damage when slathered in sulfurophane beforehand.
Broccoli seed oil isn't the only broccoli-derived ingredient on the block, though. Broccoli seed extract, a very similar but technically separate ingredient, is also seeing a surge in popularity; most notably in Swedish skin-care brand L:A Bruket's Broccoli Seed Serum. "Broccoli seed extract acts as superfood for your skin, adding almost all of the vitamins, nourishment and Omega acids you can possibly need," says Monica Kylèn, the founder of L:A Bruket. Since the extract includes byproducts of the entire broccoli seed (whereas the BSO just includes the oil that can be cold-pressed out of the seed), it boasts the aforementioned nutrients along with a higher concentration of vitamin C, which "stimulates collagen production in the skin," according to Kylèn.
I've personally been using the L:A Bruket Broccoli Seed Serum for about a month, and have tracked a significant improvement in my skin's overall bounciness and moisture levels — plus, the user experience is pretty great. The serum absorbs almost instantly, so I can efficiently move onto moisturizer and makeup in my morning routine. (I have to admit that I love its faint scent of broccoli and fresh cut grass, too.)
"Broccoli seed oil and broccoli seed extract are gentle and hydrating and can be used across a variety of skin types, even those with sensitive skin," says Dr. Zeichner, noting that the ingredients are relatively risk-free (barring a broccoli allergy, of course).
Ahead, 11 ways to feed your face the daily recommended dose of broccoli-spiked skin-care.
Please note: Occasionally, we use affiliate links on our site. This in no way affects our editorial decision-making.
Stay current on the latest trends, news and people shaping the fashion industry. Sign up for our daily newsletter.
Source: Fashionista