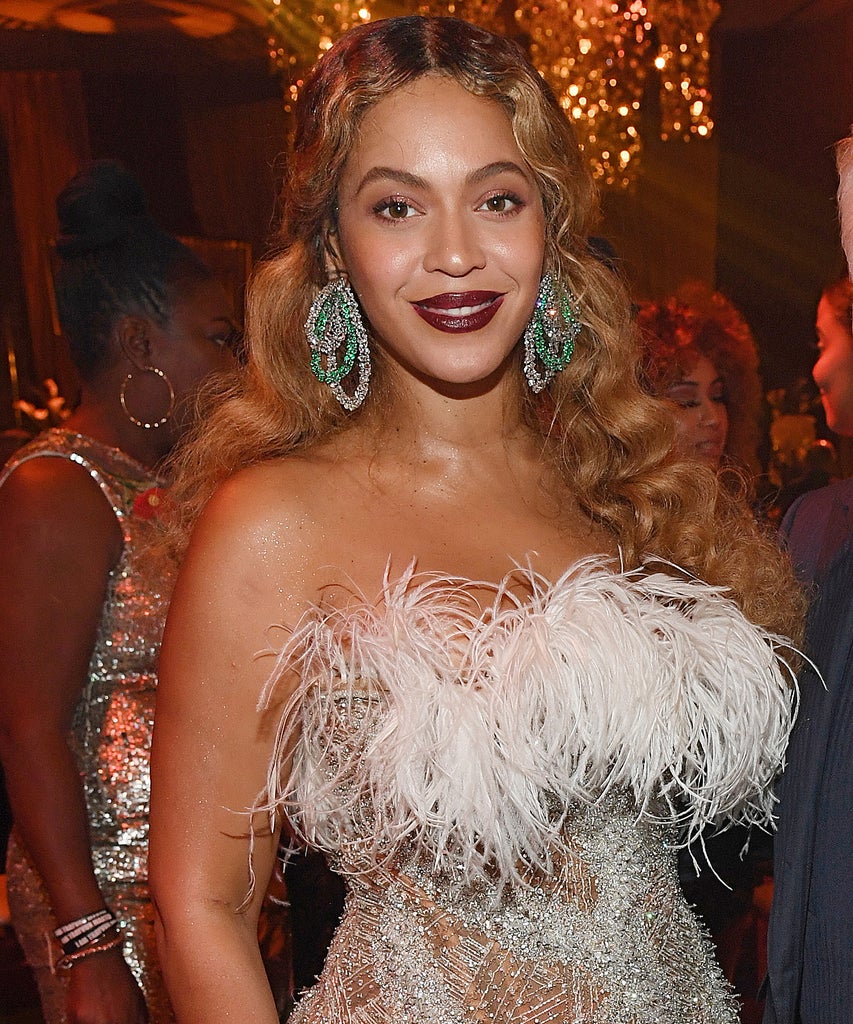 We love a superstar who isn't afraid to pay tribute when its due. Last week, Beyoncé attended the Los Angeles screening of director Melina Matsoukas' first major motion picture Queen & Slim in the exact pair of mid-calf, snakeskin Brother Vellies boots the film's female lead wears throughout the movie. 
Along with the boots, Beyoncé wore an olive green Balmain Resort 2020 cropped jacket paired with a dress ruched in the midsection, and a matching Balmain bag. It's the same look actress Jodie Turner-Smith, who stars as Queen, wore alongside Matsoukas and screenwriter Lena Waithe in the October 2019 issue of Elle magazine.  Beyoncé posted three photographs of the look to her Instagram, and wrote, "So proud of my friends Melina and Lena." 
In an interview with The Wall Street Journal, the film's costume designer Shiona Turini said that she intentionally brought Black style and culture to the big screen by working with Dapper Dan, Pyer Moss, TyLynn Nguyen, and Brother Vellies — all Black designers. "It meant so much to me to have such an iconic Brother Vellies shoe in this film," designer Aurora James tells Refinery29. 
For James, part of the beauty of owning and operating a sustainable brand means that the pieces will be in the collection forever. And now that both Beyoncé and Queen have worn the boots, they will definitely live on in infamy forever. "We've had the [Palm boots] for years, producing it only in tiny batches, and they've never gone on sale or out of style," James explains. "I really enjoy making products that speak to the culture and having this boot be such a big part of this iconic Black film really means the world to me."
Now, as for that well-timed Beyoncé co-sign? James says, "Beyoncé is an incredible supporter of women of color. I am always so grateful when she shines her light on us. It burns bright."
Related Content:
Like what you see? How about some more R29 goodness, right here?
The Reason There Is A Tracksuit In Queen & Slim
Lena Waithe Shares Her Favorite LGBTQ+ Designers
Beyoncé Loves This Young Black Designer
Source: Refinery29 – Channing Hargrove