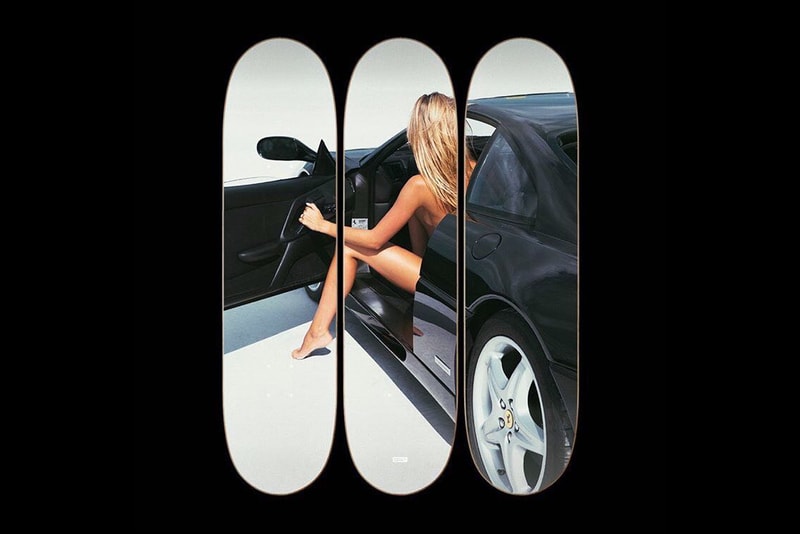 Every week we spotlight the best art drops by notable artists, galleries, museums and contemporary art platforms across the globe. Listed items typically encompass limited edition artworks, prints, collectible figures, collaborative merchandise and more.
For this week's installment: Artspace releases limited edition photographs by seminal artist Jenny Holzer, automotive photographer Lorenzo Botero teams up with Garage Welt on 'The Belinetta' skateboard triptych, Kevin Poon's WOAW taps artist Rostarr for signature sculptures, and Cody Hudson joins forces with Louis Buhl & Co. on a series of plant-shaped sculptures.
View the full list below.
Jenny Holzer C-Print 'Projections' Photographs
Courtesy of the artist and Artspace
Release Date: Available now on Artspace's website
Release Price: $1,750 USD each
Contemporary art purveyor Artspace recently released two c-print photographs by seminal interdisciplinary artist, Jenny Holzer. Arriving in a signed and numbered edition of 10, both artworks portray Holzer's iconic public 'Projections' from 2001. The first piece features the text 'Non Lo Supporto' which is Italian for "I Can't Stand Him" while the other work dubbed 'There Is Blood' portrays the phrase "There Is Blood And More Blood." Each photo measures 16 x 20 inches each.
Lorenzo Botero x Garage Welt 'The Berlinetta' Skateboard Triptych
Lorenzo Botero
Release Date: Available on Garage Welt's website this August 30 at 9 a.m. PST
Release Price: TBC
Acclaimed automotive photographer Lorenzo Botero is launching his three-piece art deck set made in collaboration with editions seller Garage Welt. The triptych entitled 'The Berlinetta' portrays model Genna Leigh and a 1995 Ferrari 355 Berlinetta. Each set will include a digitally printed sticker randomly selected from the photo set. An opportunity to purchase a signed 152cm x 101cm acrylic print of the featured set photo is also available through a raffle on the artist's Instagram account.
Rostarr x WOAW 'Introspectives' Sculpture Edition
Woaw Store
Release Date: August 30 at WOAW
Release Price: $162 USD each
To commemorate the launch of his solo exhibition entitled "Introspectives" at WOAW in Hong Kong, abstract painter Rostarr is set to release an edition of signature sculptures. Standing 5.4 inches tall, each collectible figure will come in three different colorways: white, gold, and black. All figures will be available to purchase at the exhibition for $162 USD each.
WOAW
5 Sun St.
Wan Chai, Hong Kong
Vincent van Gogh x Medicom Toy BE@RBRICK
Medicom Toy
Release Date: Available now on cjmart.jp
Release Price: $123-$492 USD
Medicom Toy has returned with its latest BE@RBRICK, emblazoned with motifs taken from Vincent van Gogh's still life series 'Sunflowers.' Dubbed "Van Gogh Museum," the figures come in sizes of 100%, 400% and 1000% and see a glossy finish over a bevy of details. The Medicom Toy BE@RBRICK "Van Gogh Museum" is currently available at cjmart.jp for $123 USD, for the 100% & 400% set and $492 USD for 1000%.
Cody Hudson x Louis Buhl & Co. Plant-Shaped Sculptures
Louis Buhl & Co.
Release Date: Available on Louis Buhl & Co.'s website
Release Price: $1,550 USD for each set
Artist Cody Hudson recently launched his first edition of sculptures for Louis Buhl & Co. The artist made three sets of hand-screened wooden pieces that are shaped as house plants. Titled 'Plant Based Architecture (Let's Stay Alive).' the series is comprised of several three-dimensional monoprints that evoke Hudson's practice of creating graphic adaptations out of living things.
Click here to view full gallery at HYPEBEAST