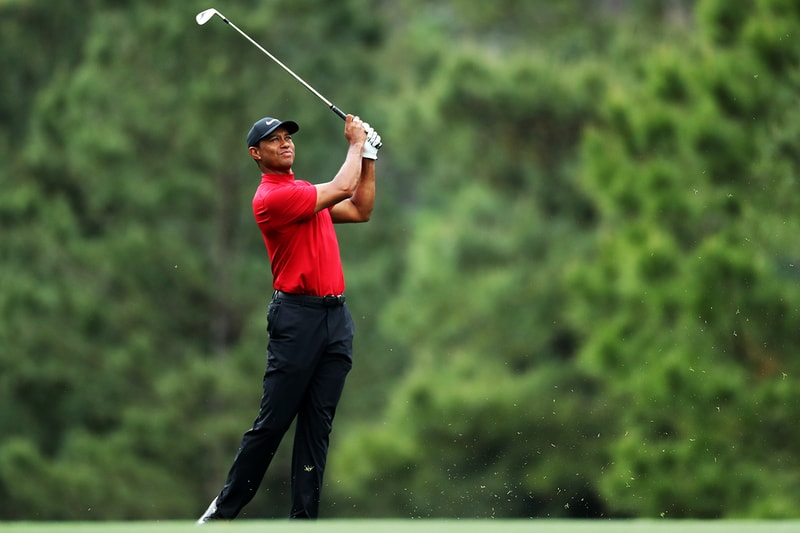 On Sunday, golfing legend Tiger Woods once again made history by winning the 2019 Masters held in in Augusta, Ga. Being crowned the top honors at this prestigious contest has now tallied Woods' major championship titles to 15, on top of winning the tournament for a fifth time.
To claim the victory, Woods sank a short putt on the 18th hole to go -13. Considering Woods hadn't won a major tournament since 2008, the Internet quickly blew up after this feat to praise his accomplishments along with commenting on his comeback story.
In particular, the hip-hop world took notice seeing such artist as Tyga posting "Tiger!!!" on his Twitter page along with Action Bronson posting "MY NEW SHIT SWING LIKE TIGER AT THE MASTERS!!!!!!!!!" Basketball superstar Stephen Curry along with former president Barack Obama also paid tribute to Woods. Check out some of the posts below.
In more sport-related news, the NBA compiled the 50 best dunks from this season.
Congratulations, Tiger! To come back and win the Masters after all the highs and lows is a testament to excellence, grit, and determination.

— Barack Obama (@BarackObama) April 14, 2019
Greatest comeback story in sports! Congrats @TigerWoods Let me hold one of those 5 jackets one time!

— Stephen Curry (@StephenCurry30) April 14, 2019
MY NEW SHIT SWING LIKE TIGER AT THE MASTERS!!!!!!!!!

— *STONED BEYOND BELIEF* (@ActionBronson) April 14, 2019
Tiger!!!

— T-Raww (@Tyga) April 14, 2019
Tiger tiger woods Y'all !!! ?????????????????? #DAD

— Trinidad Jame$ (@Trinidadjamesgg) April 14, 2019
????????????? https://t.co/bEa9vZTadd

— Rapsody (@rapsody) April 14, 2019
My favorite quote from the movie. Lol https://t.co/dwkfy4rVDy

— Stalley?? (@Stalley) April 14, 2019
Tiger wins the masters let's goooo

— UNCLE SCHEME (@DJSCHEME_) April 14, 2019
Y'all had Tiger fcked up fr LMFAO ???? #TheMasters pic.twitter.com/FWqhhJcftf

— Doughboy (@doughboybeatz) April 14, 2019
Congratulations to @TigerWoods., a truly Great Champion!

— Donald J. Trump (@realDonaldTrump) April 14, 2019
Oh… @TigerWoods heard you.pic.twitter.com/2Y3qb8MYzd

— Dov Kleiman (@NFL_DovKleiman) April 14, 2019
Greatest comeback story in sports ! Congrats @TigerWoods ?? pic.twitter.com/oygLV2B7Tk

— Don Ahmad (@Ahmad_Aboubakar) April 14, 2019
Congratulations to @TigerWoods patience, experience with discipline #TheMasters

— James Worthy (@JamesWorthy42) April 14, 2019
Tiger Woods winning the 2019 #TheMasters is the best thing to happen to golf in a very long time. pic.twitter.com/4Cpe9VbkMl

— Chris Henrique (@ChrisHenrique) April 14, 2019
Huge congrats to @TigerWoods! Incredible story and comeback ?

Our guys had a blast following Sunday's action. (Via @Collin_McHugh) pic.twitter.com/6oEQEvimLX

— Houston Astros (@astros) April 14, 2019
@TigerWoods you have a new fan, congrats champ!! pic.twitter.com/TvesA327db

— Joe Vasquez (@joevasquez3) April 14, 2019
Kevon Looney on Tiger Woods' Masters win: "I think Steph almost cried." pic.twitter.com/mEmLviNoRQ

— Mark Medina (@MarkG_Medina) April 14, 2019
Click here to view full gallery at HYPEBEAST