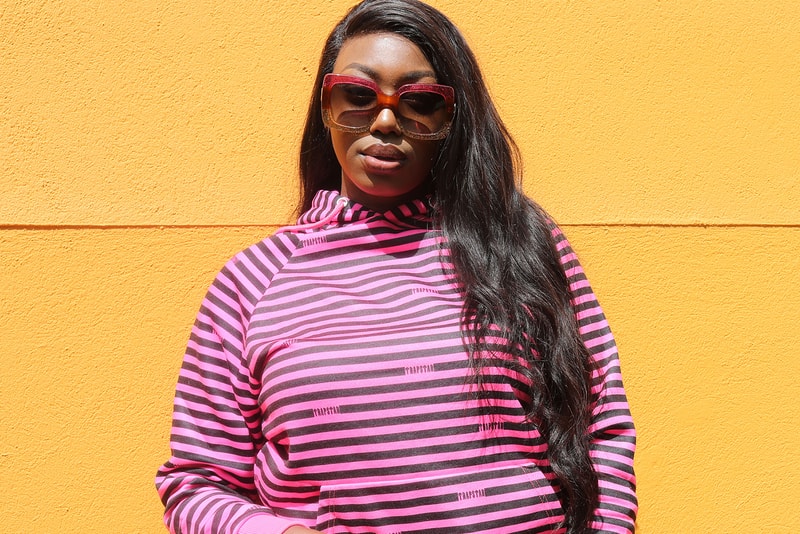 London has always had a globally-renowned music industry but in recent years, the city's homegrown musical talent has been hotter than ever. In particular, it's the women that are making the biggest strides, with South East London's Ms Banks' cementing her name as one to watch on the British rap scene. Her 12-track 2018 mixtape, Coldest Winter Ever, garnered stellar reviews and her catchy breakout track, "Snack" ft Kida Kudz from earlier this year became somewhat of a viral sensation.
The rapper gained the attention of Nicki Minaj, who tweeted the lyrics to Ms Banks' bars on "Yu Zimme" and promptly supported the U.S. superstar's Manchester show and has also toured with Cardi B. We caught up with the rising star for the latest edition of our BAEwatch series as she drops her new single "Back It Up," which is out now.
Read on for more and if you're in the city, you can catch Ms Banks performing at South West Four Festival in Clapham from August 24 – Aug 25.
Morna Fraser/HYPEBAE
Morna Fraser/HYPEBAE
You're a South London girl born and raised – how would you say the south east has influenced you?
Growing up in south London really inspired me. I think it made me how I am today; being streetwise and the rawness – it's all an influence of my area. I feel like South girls are always a bit more rough around the edges, we like streetwear and comfort. I love hoodies and tracksuits – that's very much me, it's very south to always look like you're going to the gym.
You dropped your first bars aged just 11 – do you come from a musical family? What are your earliest memories around being interested in music?
I come from a very music-orientated family so I always grew up with different sounds in the home, whether it was hip hop or drum and bass, R&B or African music – there were always different sounds being played. My earliest memory of becoming interested in music is when my uncle suggested I should write something at 11 years old to a drum and bass beat that – was my first time writing a wrap.
Morna Fraser/HYPEBAE
You've toured with Cardi B and been on the festival circuit – what have been some of your most memorable experiences on the road?
I think travelling up to Manchester to support Nicki Minaj was one of my best moments this year. We had fun and it really prepped us for what's to come as we brought that same positive energy on stage and just had fun with it.
We loved seeing all the fan dance submissions on your Instagram for "Snack" – it's gone pretty viral. How did the project come about?
It's funny because we had a few videos but I posted my mum dancing to it and it just went crazy. The amount of videos we had coming in just surged! I'm so happy and grateful for everyone that got involved – I literally got videos from people all around the world.
Grime is of course a genre thats so heavily male-dominated – what challenges have you faced being a fierce woman trying to carve out a space in the industry? Do you feel you have more pressure to prove yourself?
[There's] definitely more pressure and you have to do a lot more to be taken seriously. As a guy you come in the game and automatically become bros with your peers, where as a women you have to stand your ground – especially when these same groups of men may find you attractive, you really gotta mean business and keep it that way.
You've just released a new single "Back It Up" – could you tell us more about the track and the inspiration behind it?
It's a more softer, melodic side – something a bit more vulnerable. I pride myself in being a versatile artist so I just wanna keep showing different sides to me and hopefully the fans like it.
Click here to view full gallery at HYPEBAE