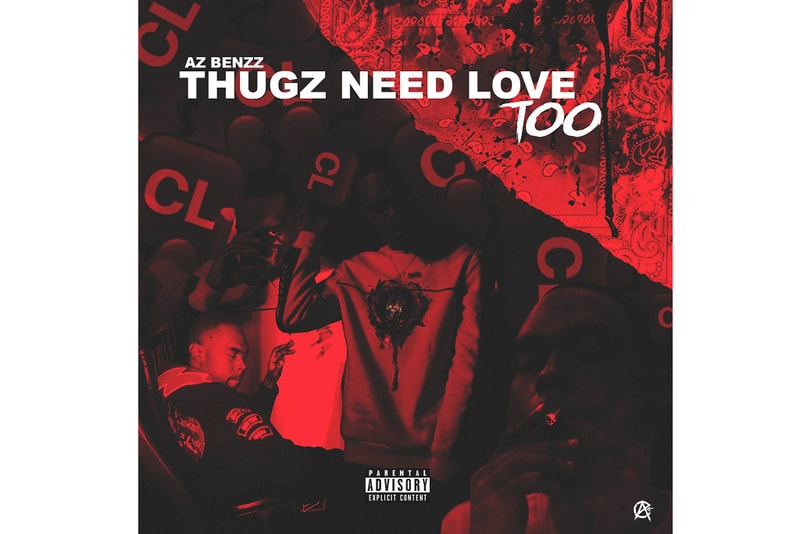 At the conclusion of 2018, AzBenzz served up a collaborative project with Big $wift, the aptly-titled Gudda$wift. Now, for his first project of 2019, the rising West Coast R&B artist is back with a new EP for Valentine's Day, ThugzNeedLoveToo. The aforementioned project is made up of three new records and features contributions from Sal Treze, Paupa, XIA Beats, SideflowMusic, IcerMakinBangers, ThatsBigGame, Kali, RobTWO and MixedByZ — who AzBenzz labels as "the greatest engineer."
"The real gangstas and thugs are either dead, or in jail. We, us thugs love the streets, but the streets don't love us back. The motivation of this EP comes from real life stories that I've been through, things I wish I could've changed, and situations I wish I had handled better. ThugzNeedLoveToo is the beginning is GUDDAR&B, that thug love. This EP is an appreciation of all women who sacrifice moments and situations in their lives for us to be loved too. In the near future, I plan to drop my debut official album with exquisite R&B beats, along with numerous shows lined up in the future for myself, as well as the AzCult."
"How I mix the street shit and heartfelt shit … I really talk about and sing about what I go through," AzBenzz previously told us, breaking down his sound and style. "The shit that I'm talking about on these songs, I really went through those things. It all comes from real life experiences for me. I like to give people what I'm feeling at the time. That's how I get this energy out of me: I write these songs, and I learn right from wrong … I feel like when people really listen to my music, they really feel it, understand it and some can relate to where they want to start doing the same shit. If I'm inspiring others to do the same thing and I get others to express themselves and get out things in the same way, that's what matters."
You can stream AzBenzz's new ThugzNeedLoveToo EP below.
For more new releases from the West Coast's contemporary scene, check out MemoTheMafioso and O'Way's new "Effortless" single.
Click here to view full gallery at HYPEBEAST