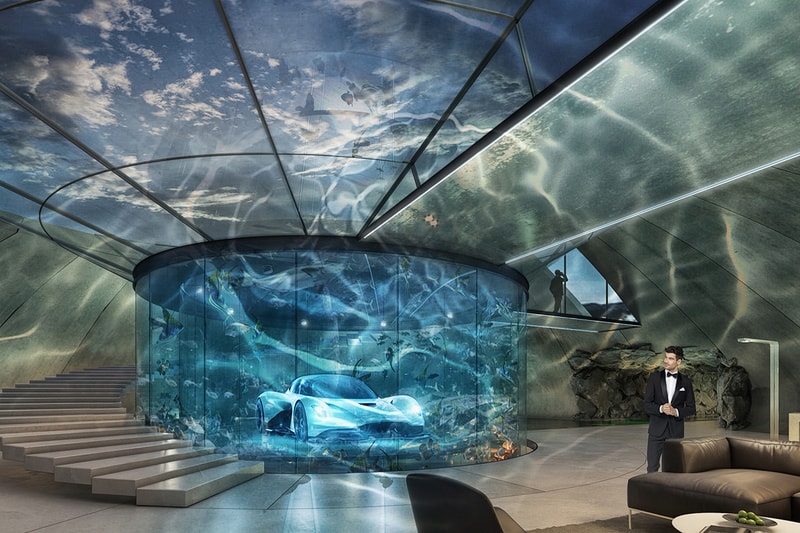 Aston Martin revealed a new bespoke personalization service this week at Pebble Beach, aptly named "Aston Martin Automotive Galleries and Lairs." The new program's title is no exaggeration, as the automotive brand is actually offering customers the chance to build a supervillain-style lair for their cars.
The first tier in the program is the "Automotive Gallery" for anyone looking to up the ante of their classic garage, perhaps a private car museum. Meanwhile, the top-tier "Lair" is for those hoping to take on a full architectural overhaul, perhaps an underground waterfall or an all-glass observation deck.
As part of the service, customers will work closely with both the Aston Martin design team and a team of architects to bring their visions to life. Renderings released along with the announcement show a few options Aston Martin is keen to start building, including a very casual underwater garage in which the vehicle is housed in an aquatic tank filled with sharks and exotic fish. "For the car enthusiast, the garage is as important as the rest of the house," says Aston Martin Chief Creative Officer Marek Reichman. "A bespoke auto gallery that either focuses on showing off the car or is part of a larger, integrated entertainment space with simulators takes Aston Martin ownership to the next level."
Aston Martin Partnerships Director Sebastien Delmaire outlines more detailed possibilities below:
"Aston Martin has decades of expertise in staging cars in order to present them at their absolute best but also understands the importance of storage and maintenance of these living, breathing machines. Automotive Galleries can even be designed to fit the era if a customer has a heritage car. We are able to cover every requirement, whether it is to display single cars as pieces of automotive art or a full collection of cars in a private museum. These spaces provide an opportunity for people to create their own unique world where they can share their passion for cars with their guests. The opportunities are endless."
For more automotive news, take a look at the world's most powerful production SUV.
Click here to view full gallery at HYPEBEAST