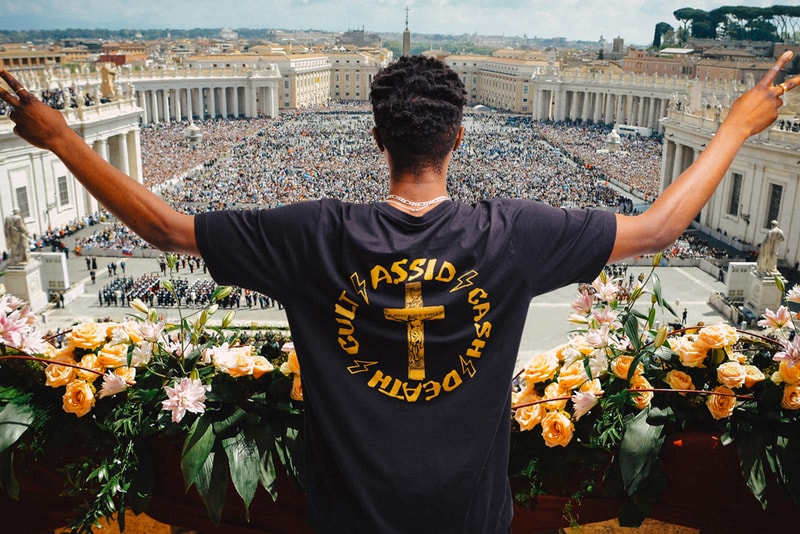 London-based ASSID, a non-conformist brand known for its humorous and provocative graphics, has released its Fall/Winter 2019 collection. Following its Spring/Summer 2019 release of quirky styles, ASSID returns with graphics equally as funny as the lookbook images themselves.
Set in exaggerated environments, ASSID's Fall/Winter 2019 lookbook captures the hilarious nature of the brand while showcasing the newest bold graphics in T-shirts, hoodies, long sleeves and collared shirts. A man wearing a long sleeve with the phrase "You've come a long way, baby" stands next to a group of elders. Holding huge "ASSID" balloons that resemble the print on his shirt, a man hovers over a patient in a hospital bed. While wearing a Jaws-themed T-shirt, a man resides in the mouth of a shark. The selection of tops are showcased in scenes that are overtly overdone, highlighting the comical and entertaining nature of the latest pieces. T-shirts and hoodies come in black and white colorways with colorful prints, while the shirts are entirely covered with illustrations.
The collection is set to release soon on HBX, with prices not yet confirmed.
In other news, Supreme released its Fall/Winter 2019 lookbook.
Click here to view full gallery at HYPEBEAST