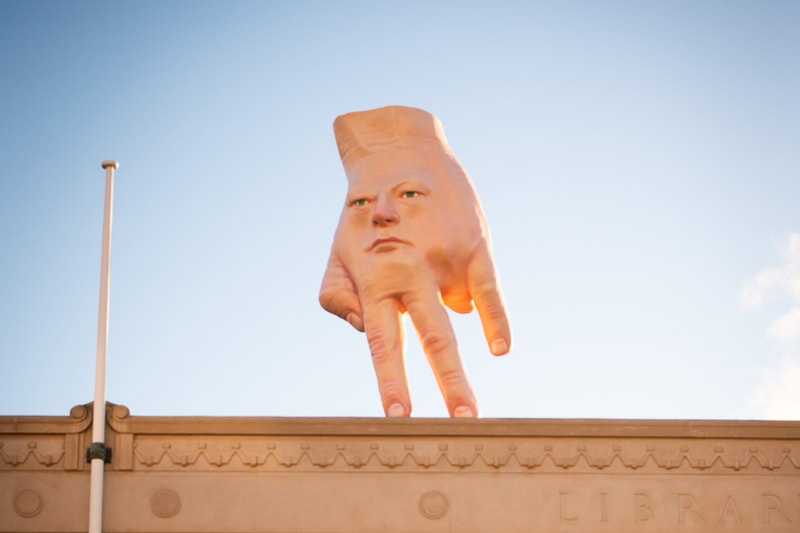 Ronnie van Hout creates mixed-media artworks that portray unsettling subjects including sculptures that merge human body parts with random household objects. The Melbourne-based artist's latest creation is perhaps his most nightmarish yet.
Perched on the roof of the Wellington City Gallery in New Zealand is van Hout's 16-foot-tall sculpture of a hybrid hand. The giant outdoor work was made using scans of the artist's own body parts with van Hout describing the piece as a "partial self-portrait," as reported by The Guardian. The work was originally installed in his hometown of Christchurch following the tragic 2011 earthquake.
Since it was erected over the weekend, the artwork has been triggering some mixed reactions. Some onlookers even took to their social media accounts to express how the "hideous" and "monstrous" piece is causing them to have nightmares.
The sculpture will grace the rooftop of the gallery for the next three years. Read the reactions below and learn more about 'Quasi' by visiting City Gallery's website.
In other eye-catching works, check out Ian Strange's 'LIGHT INTERSECTION' installation at Lyon Housemuseum in Australia.
excuse me wellington
WHAT IN THE FUCK IS THIS NIGHTMARE pic.twitter.com/UbFQaFCLPk

— ⚔️calliope⚔️?#paxwest (@callioperyder) August 19, 2019
Is it a bird? Is it a plane? No—Quasi has landed! This morning, Ronnie van Hout's Quasi was installed on our roof. Quasi is a joint project with Wellington Sculpture Trust, with support from Wellington City Council, Wellington Community Trust, and Richard Burrell. pic.twitter.com/9MaHc9gB71

— CityGalleryWgtn (@CityGalleryWgtn) August 18, 2019
Decided to go see Ronnie van Hout's "Quasi" for myself. I'm not sure I can entirely explain why but this pompous-looking, puffy, pale stale & male hand-person made me laugh out loud. And something that makes me laugh is a welcome addition to my urban wanderings. pic.twitter.com/xfTyqMiWhY

— Marianne Elliott (@zenpeacekeeper) August 20, 2019
Click here to view full gallery at HYPEBEAST