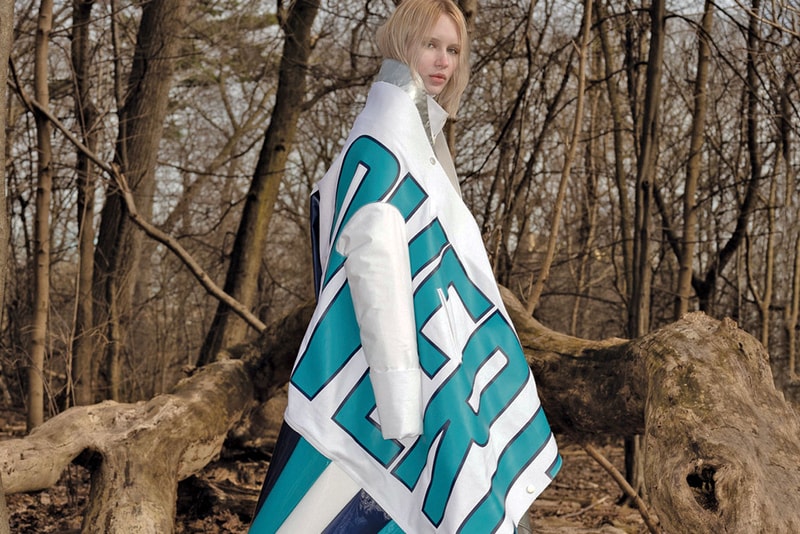 After cutting his teeth at COMME des GARÇONS, Ryuhei Oomaru launched his long-running product development studio, Oomaru Seisakusho 2, a New York-based institution that remains highly in-demand for its attention to detail and experimental craftsmanship. Three seasons ago, Oomaru created a one-off capsule of forward-thinking overcoats for an Isetan department store pop-up; these sold out almost immediately, thus laying the foundation for Oomaru Seisakusho 2's in-house brand: OVERCOAT.
For Fall/Winter 2019 — OVERCOAT's third season — the label delivers its debut lookbook, showcasing dynamic silhouettes against a rugged backdrop. OVERCOAT's signature outerwear is complemented by an expanded array of wearables in relaxed silhouettes, including shirting, scarves and jackets, as well as OVERCOAT's first-ever trousers.
We spoke with Oomaru briefly about his emerging brand; read the discussion below and visit Oomaru Seisakusho's site for more information. If you're in New York, visit the brand's Canal Street pop-up (which lasts until March 1) to experience the wares in person.
Can you briefly describe the signature Overcoat look?
The signature Overcoat look would be tailored but relaxed, pursuing comfort in the most
minimal form.

A typical ensemble would be a wool shirt in a vivid color, a bias cut jacket with straight
leg trousers in the matching fabric to be worn under any overcoat, a raglan or dolman
sleeve overcoat.

The clothes are ultimately a form of expression for the wearer.

I always wanted my collection to act as a tool to allow the wearer to express
themselves.
Is there a single type of coat that best underlines the brand?
One of our classic styles is the Trench coat in wool serge. The silhouette features front
and back pleats mimicking a raglan shoulder line and these pleats expand and contract
depending on the wearer's shoulder width and shape, allowing the fabric to contour to
different shoulder sizes. The fabric is from Japan and is a revival of an army uniform
that is extremely durable.
Are trousers new for the brand? How else have you branched out
beyond outerwear?
Trousers are new for the brand and this season there are two types of trousers: wide
leg and straight leg. The straight leg trouser sits at the waist with the seams on the leg
being rotated so there is no visible inseam or side seam. Instead the seams are on the
front and back of the trouser creating an even straighter silhouette.

The wide leg trouser is high-waisted with no side seam but only an inseam.

The darts at the top of the trouser controls the fabric to wrap around the wearer's waist.

Without any restrictions of seams, the fabric drapes naturally along the leg for a clean
flowy silhouette.

In addition, we have further expanded the collection to include jackets, shirts and
scarves to be worn with the outerwear.
Why start to show on the NYFW calendar now?
I founded Oomaru Seisakusho 2, my product development studio ten years ago. During
this time in the studio I created numerous garments for myself and for other designers
and creators.

Three seasons ago, I was offered an opportunity to do a pop-up shop at Isetan
Department store in Japan with a capsule collection of my overcoats. The products sold
out quite quickly and I was then approached by more stores had shown interest in the
brand and eventually decided to distribute the collection internationally.

Overcoat is now in it's third season and it was an organic process to show during NYFW
as I am based in New York and used the city as initial inspiration for the collection
theme "Wearing New York."
Does Overcoat produce seasonal collections?
Yes, Overcoat produces 2 seasons a year, Spring/Summer and Fall/Winter but there
are classic styles that remain part of the collection every season.

2 seasons a year, Spring/Summer and Fall/Winter.
Can you name some of your better-known clients?
Hirofumi Kurino (Co-founder & Creative Advisor of UNITED ARROWS)

Rinko Kikuchi (Actress)

Angelo Baque (Founder & Creative Director of AWAKE NY)

Jesper Lund (Editor-in-Chief & Creative Director of Office Magazine)

Bosco Sodi (Artist)
Did working at COMME des GARÇONS affect your design approach?
It helped me see the importance of keeping an independent mind.
Which stores currently sell OVERCOAT?
Totokaelo in Soho and Isetan Shinjuku, UNITED ARROWS Harajuku, Edition Omotesando in Japan.
Click here to view full gallery at HYPEBEAST
Source: HYPEBEAST