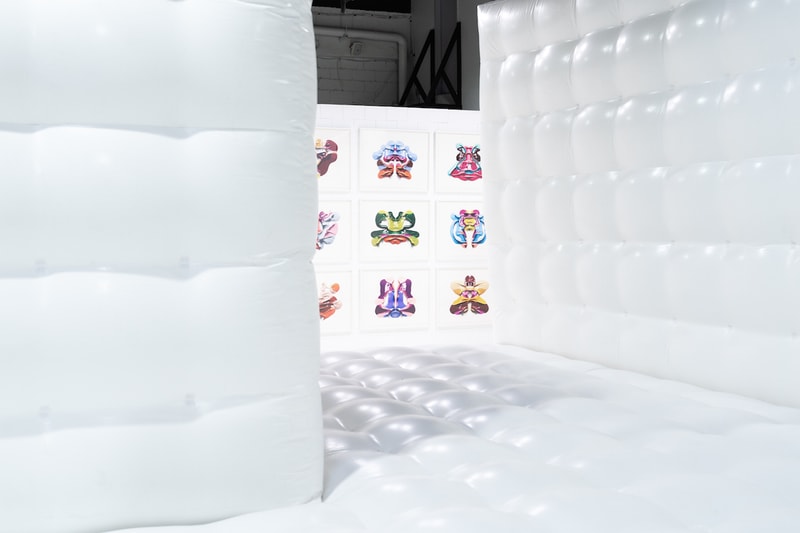 Following her immersive "MONOCHROME" exhibition last year, interdisciplinary artist Cj Hendry launches her new interactive presentation entitled "RORSCHACH." Taking place inside a warehouse in Brooklyn's Dumbo neighborhood, Hendry installed a 3,000-square-foot children's bouncing castle to mimic a psychiatric ward with padded walls.
Upon entering the venue, attendees are encouraged to take off their shoes and wear "RORSCHACH"-branded socks as they wander the white-colored space. In one section, Hendry displays her latest series of inkblot drawings in large- and small-scale versions alongside holographic editions boasting the trippy motifs.
The artworks were inspired by the original Rorschach inkblot test created by Swiss psychologist Hermann Rorschach in 1921. The experiment was often utilized to analyze personality and emotional functioning. "The Rorschach inkblot tests are usually just black and white and serious, but mine are colorful and ultra kitsch. I can't really explain it," she told HYPEBEAST.
"RORSCHACH" will be open for viewing from April 10 until 21. Tickets cost $10 USD and are purchased at the exhibition space. The editions will be available for purchase on April 15th on Cj Hendry's website for $575 USD each.
We recently paid a visit to Cj Hendry's Greenpoint studio to learn more about her creative upbringing, hyperreal drawings, and projects.
"RORSCHACH"
202 Plymouth Street
Dumbo, Brooklyn 11201
USA
Click here to view full gallery at HYPEBEAST